A tasty sausage made in Berlin
Walking in Berlin will definitely make you hungry and you should appease your inner child with Currywurst. It is Berlin's gastronomic invention as well as never ending controversy because it is uncertain who created the famous sauce. There are only two things you can be sure about: it is succulent and is made in Berlin.
These are the ingredients of the popular Wurst
The main ingredient for the sausage is pork and rarely rind or poultry. The sausages are steamed first, then grilled or fried depending on the region's style since Currywurst is prepared differently, and cut into bite sized chunks. The tomato - curry topping can be a tomato sauce or ketchup and curry powder is dearly dusted over the sauce. Likewise, the sauce can be already made and seasoned using other spices along curry.
Served with bread, topping and French fries
Serving the Currywurst varies as well as the sauce topping it although it is usually served with French fries, mayonnaise and ketchup. It is traditionally served with a white bread roll or Schrippe in Berlin slang.
Find the nearest Currywurst restaurant in Berlin
Berlin is the city of twos: Two Zoos, two fully functioning airports, two football stadiums, and two well known Currywurst restaurants. In West Berlin, you find Curry 36 where you can get Currywurst, organic Currywurst and vegan Currywurst being still close to Kurfürstendamm.
When hungry and in need of a snack, Hop Off at our stop 13, Kurfürstendamm!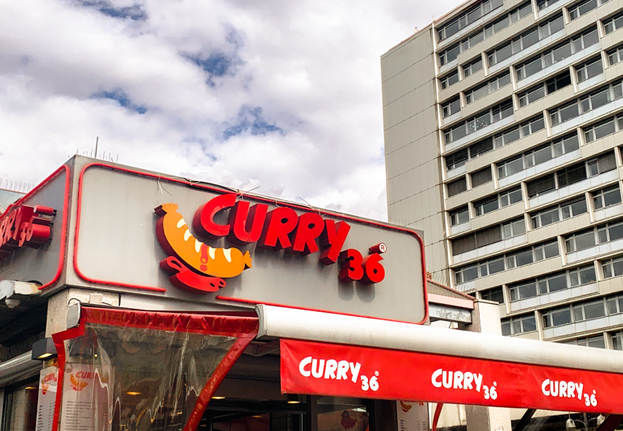 On the other side of the city, you have Konnopke's Imbiß (Konnopke's snack bar). Since the 1960s, you can get your Currywurst with Schrippe, french fries, potato salad, vegan Currywurst and there is more in their menu.