Christmas in Berlin - 5 great things to know
Have you ever wondered how Christmas in Berlin is like? The city lights up and is vastly decorated to greet the most wonderful time of the year. We have five great things you need to know even if you are at home this 2020. Hint: there is chocolate, chocolate and more chocolate!
Create your own Advents Calendar - delicius chocolate shops in Berlin
The Advents calendar is to count the Advent days prior to December 24th. Traditionally, they are rectangular-shaped and have 24 `windows´that represent each day of December leading to Christmas Eve behind which poems, images, toys, small gifts and chocolate is hidden. Using the extra time you have this 2020 to make your own Advent Calendar is a great idea and chocolate is a great surprise for children. You do not need to buy a specific Advent Calendar, but you can use 24 candy bags, leave some chocolates inside and a small surprise, seal it and write on it a number from 1 to 24. Voilá! Not only do children love chocolates and surprises but also adults.
In Berlin, you can buy chocolates at the Ritter Sport Bunte Schokowelt. The building looks like a cute toy-house with a colourful entrance. Inside, you find all sorts of chocolate and you can basically order your own personalised chocolate bar including the topics you want. Thre is 20 to choose from! As well in Gendarmenmarkt (Stop 19), there is Rausch. It resembles a chocolate-wonderland because there is chocolate everywhere, they even have chocolate-sculptures of the Brandenburg Gate and the Television Tower!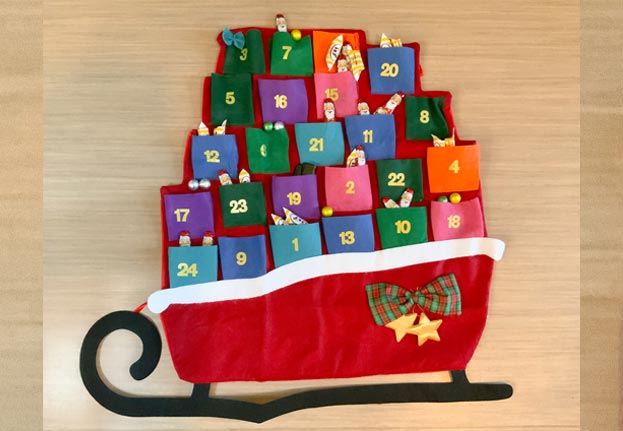 Celebrate Saint Nicholas
Day - December 6th
Let us start by saying that Saint Nicolas brings gifts to the children twice in December. It is a tradition to commemorate the Saint Nicolas day on December 6th, when chocolates and small presents are given to remember Saint Nicolas von Myra who would be known for taking care of children and was generous towards them. In the mid 1800s, the German-borned caricaturist Thomas Nast illustrated an American version of Father Christmas, Santa Claus for the journal Harper+s Weekly
The Coca-Cola Trucks lightening up Berlin
Since the late 1990s, the world-wide known Coca-Cola Trucks ride throughout Germany bringing music and lighting up the streets as they drive by bringing their Christmas Wonderland, the Snowball (great for Pictures). In 2019, their tour started on November 21st and their end-station was Mercedes – Platz (Stop 3 on Line 2) on December 20th. This year the tour cannot take place due to Covid-19, but we are coming by on 2021. It is great for children and Adult-children!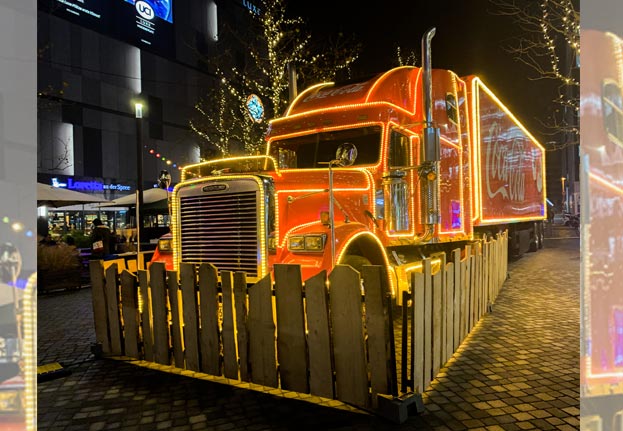 In Germany, we celebrate two Christmas days
The last but not least is the two Christmas days following Christmas Eve. While in other Countries, the 26th is called Boxing Day and you can go shopping with your Gift-Cards, in Germany it is the second Christmas Day. On this day, it is celebrated that God embodied in human form and shops and supermarkets remain therefore closed.
However, you can take our Hop On – Hop Off tour and visit the Christmas Markets if you haven't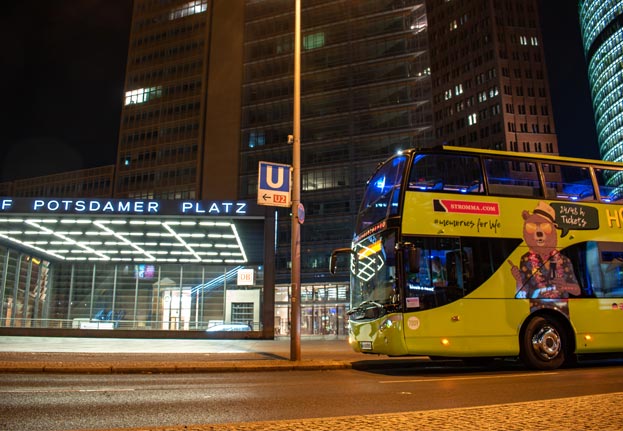 Christmas Markets are closed in 2020 due to Covid-19
There is that feeling of coziness and family given by the distinctive aroma of christmas treats and music. Although 2020 is an exception since the Christmas Markets remain closed due to Covid – 19, you should think about visiting Berlin on December 2021 so that you experience the atmosphere in the markets. The following five Markets are on our Line 1
Alexanderplatz

:

Stop 1

Rotes Rathaus:

Stop 2

Breitscheidplatz

:

Stop 12

Winter World:

Stop 16

Gendarmenmarkt

: Stop 19