5 tips for rainy days in Berlin
Even on rainy days there are great things to see and do in Berlin. Here we would like to give you some tips of fun activities for both children and adults. Jump on the Stromma hop on hop off buses and discover the city with the whole family!
Visit the Cinema Kino International - perfect for both children and adults
Located directly on one of the most impressive streets in Berlin, Karl-Marx-Allee, you will find the former GDR premiere cinema, Kino International. The listed building offers an elegant interior from the 1960s and 551 seats. The perfect place for a wonderful cinema experience for all ages.
Address: Karl-Marx-Allee 33, 10178 Berlin
Hop On - Hop Off stop: 1 (Line 1 & Line 2) - Alexanderplatz
Discover the Museum Island - fun for the whole family
Visiting a museum is the typical activity for rainy days. Berlin offers an incredible selection of these and we would like to lure you to the Museum Island, which houses the Old Museum, New Museum, Old National Gallery, Bode Museum, Pergamon Museum, James Simon Gallery and the Archaeological Center. There you will find wonderful collections on the art and cultural history of Europe.
Address: Am Lustgarten, 10178 Berlin
Hop On - Hop Off Stop: 4 (Line 1) - Museum Island

MyDays Erlebniswerk - a high-speed experience
In the middle of Berlin at the Zoological Garden you will find the mydays Erlebniswerk. There you will discover 2 flight simulators (Airbus 320, Boeing 737), 2 GT3 sports car simulators (Audi R8 LMS GT3, Porsche 911 GT3 Cup) and 1 Formula 1 racing simulator. Experience the entire 30, 60 or 90 minute action on several 98 inch monitors for a unique adventure. We think this is definitely something special for all family members.
Address: Bikini Berlin, Budapester Str. 38-50, 2nd floor, 10787 Berlin
Hop On - Hop Off stop: 12 (line 1) - Kurfürstendamm
Jump room Berlin - a fun playground for all ages
Why not be a little active on cloudy days and work out in a trampoline park? 12 different attractions await you and in the unique MaxAir you can jump and fly over 6 meters high with a little practice. There is also an indoor playground for the young guests, so there is something for all age groups.
Address: Malteserstr. 139-142, 12277 Berlin
Visit the sharks at the Aquarium Berlin
When it storms and rains outside, we recommend a visit to the Aquarium Berlin, which opened in 1913 and which you can find right next to the Zoological Garden. If you fancy watching piranhas or sharks being fed, then you've come to the right place.
The Berlin Aquarium is one of the most species-rich aquariums in the world, and insects, amphibians and reptiles can also be admired. Just have a look at the upper floors of the building.
Address: Budapester Str. 32, 10787 Berlin
Hop On - Hop Off stop: 12 (line 1) - Kurfürstendamm
Discover Berlin with an Evening City Tour by Bus
After a long and active day, our evening tour is ideal for relaxing and unwinding. Enjoy the 45-minute drive through Berlin in the evening and let the lively hustle and bustle of this city affect you again. As always, this bus tour is offered in 16 languages ​​with audio commentary and if the rain stops, we will be happy to open the convertible top for you. Go to Evening Tour by bus in Berlin to read more and book the tour.
Address: Alexanderplatz 7, 10178 Berlin
Hop On - Hop Off stop: 1 (Line 1 & Line 2) - Alexanderplatz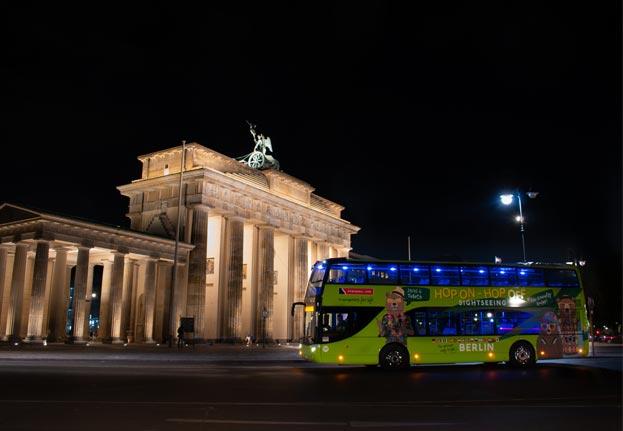 Berlin

map – indoor activities