Learn about Berlin´s World Heritage Sites
Yearly, April 18th is World Heritage Day when cultural heritage is celebrated by raising awareness about history embodied in fantastic monuments and buildings. This dedicated day was proposed in 1982 by the International Council on Monuments and Sites, short form ICOMOS. This is a non-governmental organisation that advises the UNESCO in matter of preservation of monuments and sites. Founded in 1964 after the International Congress of Architects and Specialists of Historic Buildings met in Venice decided to restore and preserve monuments and sights as evidence for their significance in history and or for a civilisation. This agreement to protect and preserve historic monuments is known as the Venice Charter.
To celebrate this day, we have the World Heritage Sites for you to visit on your next trip to Berlin
Berlin Modernism Housing Estates
One of the things for which Berlin is well known is the shortage in housing, and not only does the city have this issue nowadays but also in the early 20th century as it started expanding rapidly.
In order to tackle this shortage as well as the issue of non suitable housing with proper functionality, a German art school founded by Walter Gropius developed a new way of designing buildings when bringing aesthetics and functionality together yet available for mass production. It basically set new guidelines for social housing. This Bauhaus style defied architecture by bringing new ideas such as flattening the roof becoming more influential in modern architecture.
The blasts during World War II damaged structures built in Bauhaus style, but ICOMOS was able to evaluate six states built between 1910 and 1935 that were slightly or no damaged. In 2008, the UNESCO included these six housing states.
Berlin Modernism Housing Estates - World Heritage list UNESCO
Museum Island in Berlin
The Museumsinsel is a protected site by the UNESCO since 1999. It is indisputable that this complex that includes gardens, bridges, the peristyle, and five worldwide known museological institutions is a fascinating magnet for tourists and locals alike. The island is a protected site because of its architecture. Built just over one century (1820-1930), the five museums harmonise architecturally even thought they have different styles including neo-baroque, neoclassicist and classical.
Museum Island - World Heritage list UNESCO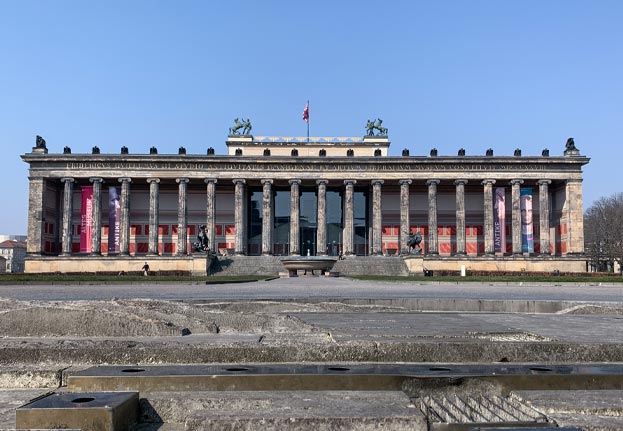 Palaces and Parks in Potsdam and Berlin
The Sanssouci palace also named the 'prussian Versailles' brings together different art trends happening in Europe in the 17 hundreds. The palace itself is a majestic composition where some of the rooms are uniquely decorated. For example, you will find yourself in a room decorated with birds and flowers on the wall, or you can see the library through a glass. You can tell there is a marvellous view to the garden because not only the library but the entire palace has large windows.
Sanssouci ´s landscape garden was created by the most outstanding gardeners in northern Germany during in this period who designed one of the most beautiful gardens where you loose yourself between flowers, fountains, sculptures and the stairs towards the palace. The view is simply awesome!
Palaces and Parks of Potsdam and Berlin - World Heritage List UNESCO