Tour a typical Amsterdam brewery
If you ask locals which Amsterdam brewery you should visit, they'll surely point you in the direction of Brouwerij 't IJ. And with good reason, the beers are absolutely superb here! Classic beers are complemented with seasonal brews and the selection is always surprising. For those who find it hard to choose, there's a beer sampler of 5 different brews in smaller glasses. An added bonus to this place is its location. The brewery is next to De Gooyer, one of only few remaining wind mills in Amsterdam.
Still thirsty? Brouwerij 't IJ isn't the only brewery in the city. Other good options are the famous Heineken Experience and Brouwerij De Prael where they recently brewed a beer from rain water.
Waterfront bars in Amsterdam
On sunny days you'll see Amsterdam is most mesmerizing when you see it from the water. And what could be better than taking in the beauty of the canals while sipping on your favorite drink? For those who want to combine the two, options are limitless. Café P96, Edel and De Jaren are 3 spots with terrific terraces on the water.
Prefer to see more of the city? Take a Pizza Cruise and enjoy unlimited wine and Heineken beer with your meal or order your favorite mixed drink on the Cocktail Cruise. Stunning views of Amsterdam are guaranteed!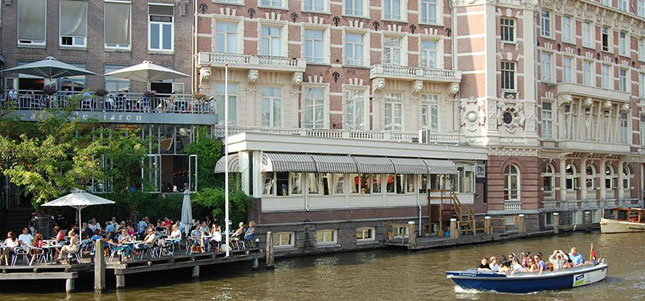 Café De Jaren
Lounge with a view
Rooftop bars in Amsterdam are hot! Soak in the season at great height to add that extra dimension to your evening. Whether you want to keep it low key or have a fancy night out, Amsterdam has the rooftop for you! Sip on the finest cocktails at Hilton's SkyLounge, while taking in unparalleled views of the city center as well as the river IJ. To have a drink in a more casual setting, climb onto the roof of Nemo Science Museum. Also a great place for a simple lunch if you're visiting Amsterdam with kids.
Some other local favorites include Floor 17 atop the Ramada Hotel and Canvas which doubles as a club during the weekend.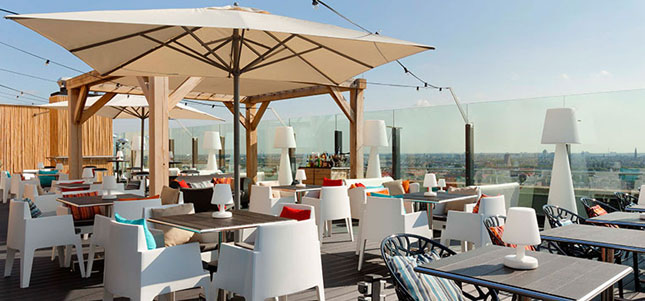 Floor 17