When waking up in the weekends or on a day off, we just crave a tasty brunch. But what are the best brunch spots in Amsterdam? We listed a few of our favorites to lift your brunch game to the next level.
Most of these brunch spots in Amsterdam can be reached by our Hop On - Hop Off boat and bus.
Brunch in Amsterdam East
1. Bar Botanique
This art deco designed gem in Amsterdam East is the place to be for a stylish and delicious brunch. From all day breakfast to croques and sweet treats like carrot cake, Bar Botaniques menu is all over the place – in a good way! Not only is their interior very green, their menu is as well, with a lot of vegan and vegetarian options. Top of your brunch with a little boozy refreshment like mimosas or bloody maries.
Address: Eerste van Swindenstraat 581
2. Louie Louie
Another well designed brunch spot in Amsterdam East: Louie Louie. Their location is hard to miss when visiting the Tropenmuseum or after a shopping spree at the Dappermarkt. Cozy yourself onto one of the benches in the corner or join the communal table for a brunch burrito, sandwich, eggs (your way) or something sweet. They open up at 9 o'clock, so you can even swoop in for breakfast.
Address: Linnaeusstraat 11A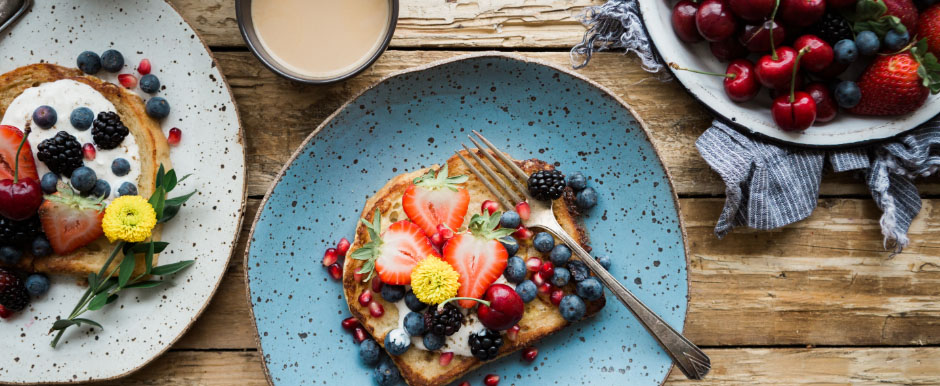 Brunch in Amsterdam West
3. Staring at Jacob
Right behind the busy street of the Overtoom, you can enjoy a big plate of the classic chicken and waffles or some crazy boozy drinks. Brunching at Staring at Jacob isn't recommended by your dietician, but who cares? Being unhappy is bad for your health as well, and you definitely will be when you're not enjoying a calorie splurge once in a while.
Address: Jacob van Lennepkade 215
4. Kanarieclub
From an old tram engine house to an atmospheric place: the Kanarieclub is a true asset to the brunch scene in Amsterdam West. Again, a hotspot with an eclectic menu where you can choose from sandwiches to burgers and from apple pie to French toast. All with an international twist to mix it up a bit. This is a wonderful brunch spot in Amsterdam when you're heading out to the movies at the FilmHallen later on.
Address: Bellamyplein 51

Brunch in Amsterdam North
5. Noorderlicht
Of course, everyone knows about Pllek, the all-day café and restaurant at the NDSM-wharf in the north. But if you cycle for just five more minutes you reach the more tranquil and peaceful Noorderlicht. For brunch we're in love with their pita pulled chicken, but their Kaku Sabzi (Persian herb omelet with yoghurt and pomegranate) also tickles our fancy. We not only like to go to Noorderlicht for their food, their building is really cool, too! Noorderlicht is situated in a greenhouse, so it's very light and you can watch the birds fly over even when you're enjoying a nice meal – or drink – inside.
Address: NDSM-plein 102
6. Fromagerie Kef
When we say Dutch food, you probably say 'cheese', right? That's why we added Fromagerie Kef to our list of brunch spots in Amsterdam. We know Kef specializes in French, and not in Dutch, cheeses, but ou la la, they're so tasty it's definitely worth to mention. At the location in North you can experience a real cheese tasting with superb stories about the cheeses. Sit outside and enjoy your cheesy brunch on their cute terrace.
Address: Van der Pekplein 1b

Brunch in Amsterdam South
7. Warung Spang Makandra
It's time for something more exotic: Javanese Surinamese food from Warung Spang Makandra. It's a small toko in De Pijp and has some of the best Javanese Surinamese food in town. They open up at 11 in the morning, so you could also go for early lunch. Opt for their sandwiches with bakkeljauw or a classic Surinamese saoto soup if you want to go for a semi small bite. If you're looking for something that fills you up throughout the rest of the day, choose roti! A round flatbread or pancake filled with spiced peas, potatoes, green beans, chicken and egg. Our mouths are watering just from writing about it.
Address: Gerard Doustraat 39
8. The Avocado Show
Yessss, the owners of The Avocado Show jumped on the hype train and opened up the first ever avocado-only restaurant in the world. Their food is Instagram pretty and super healthy and tastes even better than it looks. You can choose between savory options like four versions of the iconic avo on toast but you can also add some sweetness to your brunch by going for tropical bowls, pancakes or cheese cakes. Make sure your phone is fully charged because you want to get pictures of these jewels!
Address: Daniel Stalpertstraat 61 and Willemsparkweg 152H

Brunch near Amsterdam Central station
9. Gs brunch boat
For our selection in the Amsterdam Central Station area where going to do a little nautic theme, we're into the business of canal cruises after all. A super cool brunch spot is the Gs brunch boat. Gs is an all day brunch spot in the city center and in De Pijp. They serve mega delicious scrumptious meals from huevos rancheros to boozy pancakes and chicken waffle burger. Everything is covered with urban references like their Notorius B.E.C., classic bacon, egg, cheese sandwich, for instance. The menu on the cruise is a little limited, but you can still have eggs benedict, waffles and bloody marys of course! You can cruise from 10 in the morning, which makes this the ultimate brunch spot.
Address: Keizersgracht 177 (brunch boat) and Goudsbloemstraat 91 (restaurant)
10. Sea Palace
Ok, officially brunch is the meal between breakfast and lunch, but if you sleep in until 11 and have a super small breakfast, brunching at 12 is also accepted, right? RIGHT! Because at 12 the Sea Palace (a floating restaurant) opens their doors. Sea Palace is a Chinese restaurant where you can enjoy dimsum. Dimsum are small fried or steamed Asian bites and vegetables. We've had the best steamed bao buns over there, but the pork dumplings are also very recommended. The best way to enjoy dimsum is by going with a larger group. This way you can share all the bites and get a taste of everything!
Address: Oosterdokskade 8

Vegan brunch
Most of the restaurants above serve vegan - or at least vegetarian meals, but we also want to add a selection of super vegan friendly restaurants in Amsterdam.
11. Mr. Stacks
We mentioned Mr. Stacks before in our blogpost about Easter, but it's definitely worth mentioning again! The core business of Mr. Stacks is pancakes. And with the choice out of eight different pancake stacks, there's always something to your liking. But if you're looking for something else than pancakes (why? No, really. Why?) you can also dig into a lovely fruit bowl or desert. All the tea freaks, unite! You can choose from almost twenty different flavors and styles of tea. Hmm. Don't forget to make a reservation in advance.
Address: Govert Flinckstraat 122
12. The Dutch Weed Burger Joint
Okay, when we combine Dutch, Weed and Joint in one title, you might get the wrong idea of our intentions. We're not talking about a classic wake and bake here, but a super innovative vegan restaurant. The Dutch Weed Burger Joint started out as a food truck where they spread the word and their love for the sea weed burger. Since then a lot has happened and a real Dutch Weed Burger Joint opened up in the West. Their menu expanded as well, with the Dutch Weed Dog, Seawharma amongst other things. Which makes it more of a lunch spot, but nonetheless a very tasty option when you're vegan!
Address: Nicolaas Beetsstraat 47

Map
What are your plans for brunch in Amsterdam? Check out where you can go in this easy map below! Navigate to your next brunch destination by clicking on the map and opening it in your browser or app.