Amsterdam is one of the most beautiful cities during winter time. With its glistening streetlights and decorated trees and buildings, Amsterdam is the perfect place to spend the festive months at. We summed up where you want to go to get in the mood for the holidays.


Christmas markets
Originated in Germany, the Christmas markets galore in the city of Amsterdam. And righteously so! Who doesn't like all these festively decorated booths and warm glühwein all around? The Grinch maybe, but we all know how the movie ends. So put on some warm clothes and bring your butt over to one of these (and many more) Christmas markets in Amsterdam.
ICE*VILLAGE
This Christmas market at Museum Square just has it all: a skating rink, cute stalls with Christmas presents and hot drinks and an après-ski bar to dance all your winter blues away! You're able to enjoy the festivities from November 16th to February 2nd and the Christmas market itself is open from December 16th to December 26th.
De Amsterdamsche Kerstmarkt
From December 20th to December 23rd you can indulge yourself in a Christmas spectacle at Westerpark. Go to the Amsterdamsche Kerstmarkt for some last-minute Christmas present shopping, ice skating and Christmas karaoke.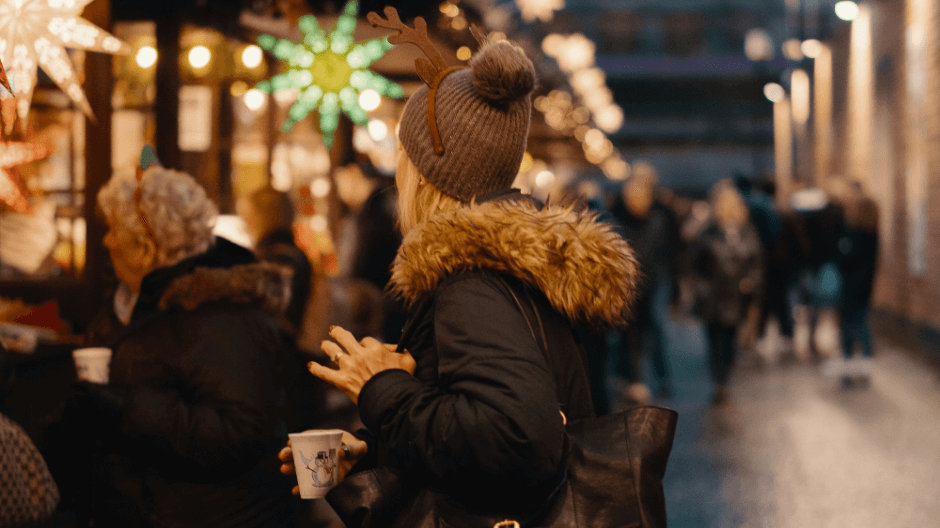 Amsterdam Light Festival
Yesss, the days are getting shorter and the nights longer, which means Amsterdam Light Festival is making its appearance in the city. Amsterdam will be filled with tastefully and artistically designed pieces of art that light up the canals.
You can walk the festival tour, but another way to enjoy the light sculptures is by Amsterdam Light Festival cruise. You can explore the festival on a regular canal cruise or – when the weather allows you to – sail through the festival area on an open boat. On both cruises you're informed about all the pieces of art, designed by national and international artists.
If you're looking for something truly special, book an exclusive and luxurious dinner cruise during the light festival.
Or if you want an evening filling programme, check out the combination deals where you can experience the Light Festival by cruise and combine it with another classic Amsterdam attraction.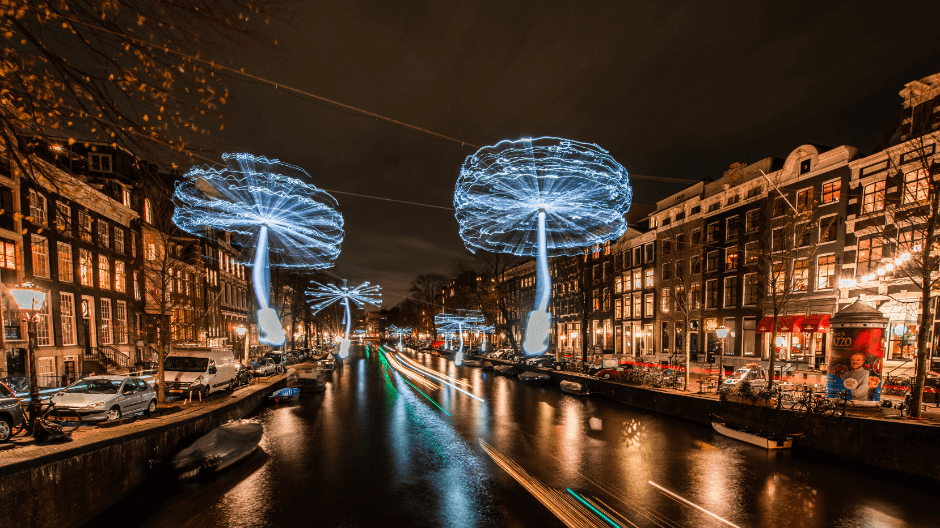 Ice skating
Nothing screams "winter vibes!" as much as ice skating does. You can try out your figure skating skills at the rinks mentioned in the Christmas markets section, but there's more to explore.
Go to Jaap Eden IJsbaan at the eastside of the city for some real ice skating fun! The ice rink is decorated with Christmas lights, seasonal music will be playing and you can score hot cacao and something warm to eat. You're close to Linnaeusstraat with its many restaurants, bars and boutiques as well – in case you're looking for somewhere else to go after amazing everyone with your skating abilities.
Also, hotel Ramada in the westside of Amsterdam usually organizes skating events on their rooftop terrace. When we find out more about the activities for this year, we'll inform you in this blogpost.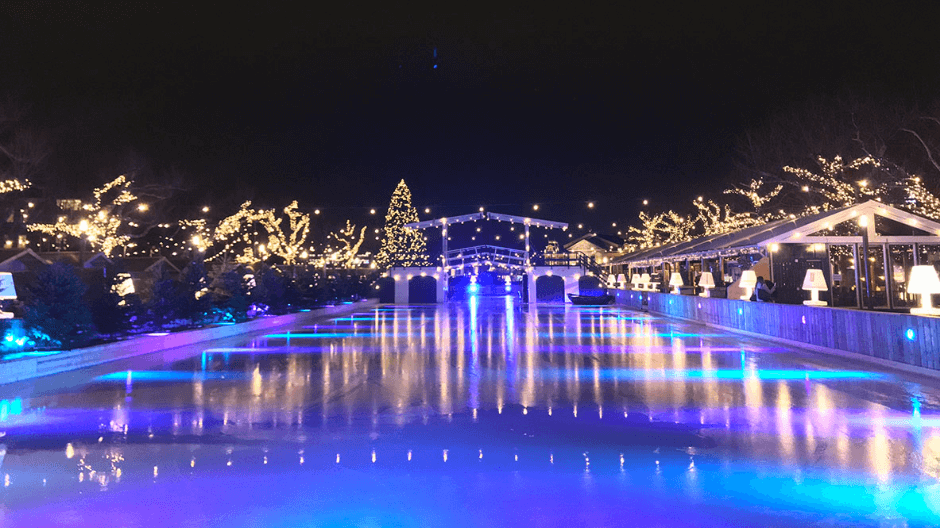 Try typical Dutch holiday treats
We wrote about typical Dutch treats before and we definitely recommend checking out warm apple pie, stroopwafels and pepernoten while you're here. During winter time our range of snacks expands with warm, fried doughy treats called oliebollen, appelflappen and appel beignets. It may not sound very appealing to eat an oliebol (translated: oil ball), but it's similar to a doughnut, filled with raisins and topped with a festive dash of powder sugar.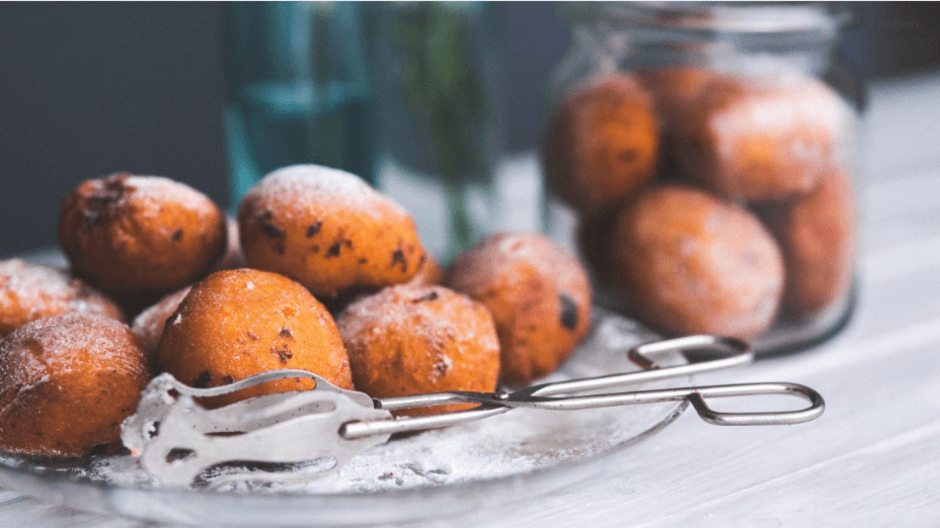 Canal cruise
During the holiday season all the streets are magically lit and the light scatters in the reflection of the water. The best way to discover the beauty of Amsterdam during the winter is by canal cruise. A plus for cruising in those cold but lovely months is the Amsterdam Light Festival we mentioned before. Book a dining cruise for an amazing dining or drink experience on the water. The city of Amsterdam is your backdrop while enjoying a very tasty meal or exquisite drinks – what else do you need?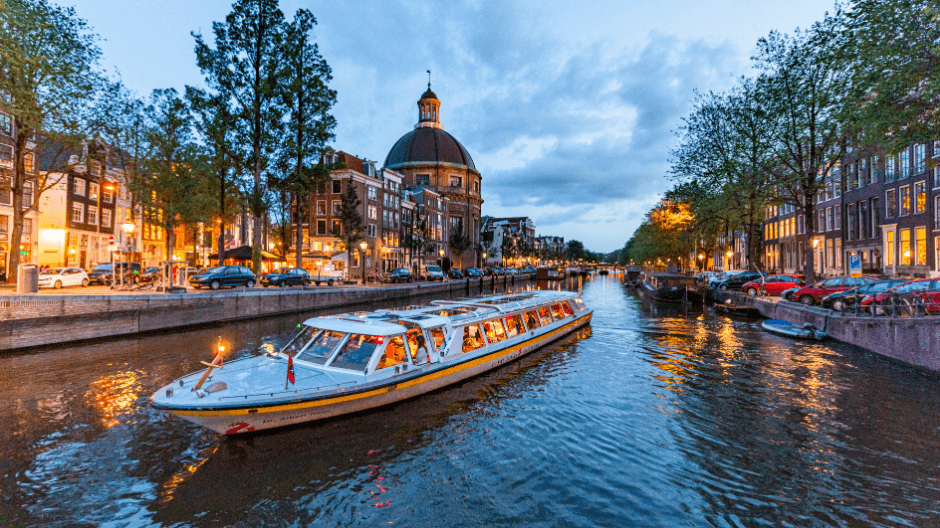 Shopping
Last minute Christmas present shopping, we're all guilty of this trait at some point in our life. Of course you can find the bigger well known brands in the main shopping streets of Kalverstraat, Leidsestraat and Nieuwendijk. But if you're looking for some coziness during your shopping spree for family, friends and loved ones, go to the 9 Straatjes (translated: 9 Streets). These small and picturesque streets are just too cute to pass by without hopping in one of the many boutiques.