Amsterdam is seen as a LGBTI+-friendly city. One of the reasons is one of the world's largest celebrations of the Pride, every last week of July and/or first week of august. Did you know Amsterdam was the first city to decriminalize homosexuality in 1811?
Most of the venues can be reached by the Hop On - Hop Off combination of the bus and boat.
LGBTI bars and clubs in Amsterdam
A lot of people come to Amsterdam to party, have a good time and to experience nights to remember! And who can blame them? With a lot of variety in music scenes and clubs, there's always a party to attend to. We can't list all of the venues, but here are some bars and clubs worth visiting if you're looking for an inclusive night out.
One of these very inclusive clubs is called NYX. With their three floors, it's also the biggest gay club in Amsterdam. Depending on the night you're planning on going to NYX, there's always something to your liking. From techno to 80s dance sounds and everything in between. Talking about everything in between: NYX encourages gay clubbers to bring their straight friends – and people of all sexual persuasions – to this night club.
Address: Reguliersdwarsstraat 42

Cocktail bar Prik has won many awards (Most Popular Gay bar of the Netherlands, Best Gay & Lesbian Venue of Amsterdam, Certificate of Excellence and so on!) and is definitely worth a visit. During the week Prik is a place where you're able to enjoy a cocktail and a small bite in a lounge-y setting, whereas you can bounce to serious DJ tunes during the weekends. Don't forget to check out their special nights like G&Tuesdays, for instance.
Address: Spuistraat 109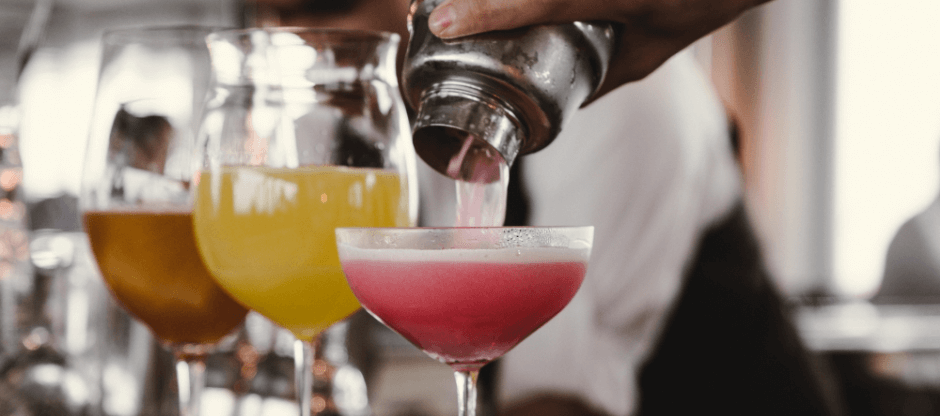 Café Saarein started out as a women's only bar in the 70's but since 1999 it's a cozy café who welcomes all queer, open minded people. You can find Café Saarein at the Jordaan, the old part of town. It's a typical 'brown café' with an interior that's inspired by the early twentieth century. One of the many perks of this bar? A pool table!
Address: Elandsstraat 119-HS
LGBTI events in Amsterdam
Of course, Pride Week is celebrated in Amsterdam as well. During this week there are numerous activities and parties all around the city to celebrate the freedom of sexual orientation in the Netherlands. Wear your best outfit, be proud the be who you are and celebrate life together!

As a part of the Pride Week in Amsterdam there's the Canal Pride. It concludes a week of partying and celebrating the equality of the LGBTI community – by sailing through the canals on decorated party boats and matching outfits. The canal pride offers organizations and visitors the opportunity to show their support to the LGBTI community.
Did you know Stromma supports the Pride in Amsterdam and offer a few boats for filming the Canal Pride? This way we're sure the Amsterdam parade is to be enjoyed by the rest of the world as well.
Address: Prinsengracht
Milkshake is one of the events in the first weekend of Pride Week. This festival is all about love, respect and tolerance towards everyone. Most people dress super extravagant when going to Milkshake festival, but since Pride Week encourages inclusivity, please just come as you are and enjoy the company of like and open minded people like yourself!
Address: Westerpark

During the Pink Film Days you're able to enjoy movies, documentaries and shorts from around the globe at the Westerpark area. All the movies have one theme in common: the LGBTI community in all its forms and glory.
Address: Pazzanistraat 4
Other LGBTI+ points of interest
The Homomonument (Monument for Homosexuality/Gay monument) is one of the city's best known LGBTI+ landmarks. This monuments remembers all the homosexuals and lesbians that lost their lives during the Second World War and reminds us of all the LGBTI orientated people who are still not free to be themselves all over the world.
Each point of the triangle shaped Homomonument reprents either the past, the present or the future. The slogan states 'Never Again', to remind us all that we should prevent what happened during the Second World War and keep fighting for basic human rights for everyone.
Address: Westermarkt

Next to the Homomonument you'll find Pink Point. An information point about everything LGBTI in the city of Amsterdam. It's run by volunteers and you can ask them anything you want to know during your stay in Amsterdam. Ask for recommendations or important information to ensure you have to most pleasant stay in the city.
Address: Westermarkt
One of the most popular streets among LGBTI visitors and residents is the Reguliersdwarsstraat. You're able to find an incredible amount of restaurants, bars and clubs at this part of town.