The sun is shining, the city is gorgeous and what could be better than looking out over the capital of the Netherlands from a great height? Indeed, a cruise so you can view the city from the water. But we just had to make a list full of cool venture points and fancy rooftop bars for an amazing view over Amsterdam. Oe la laaa.
Best view of Amsterdam
We have gathered the most beautiful, public roof terraces in Amsterdam for you. From hip rooftop bars to free terraces and from well-known acquisitions to hidden gems. They all have one thing in common: the view over Amsterdam. Whether you are in the middle of the city or looking for your favorite turrets from the outskirts of the city. We wrote it down for you. It's time to get high! (Indeed, without that green stuff that makes many tourists go crazy.)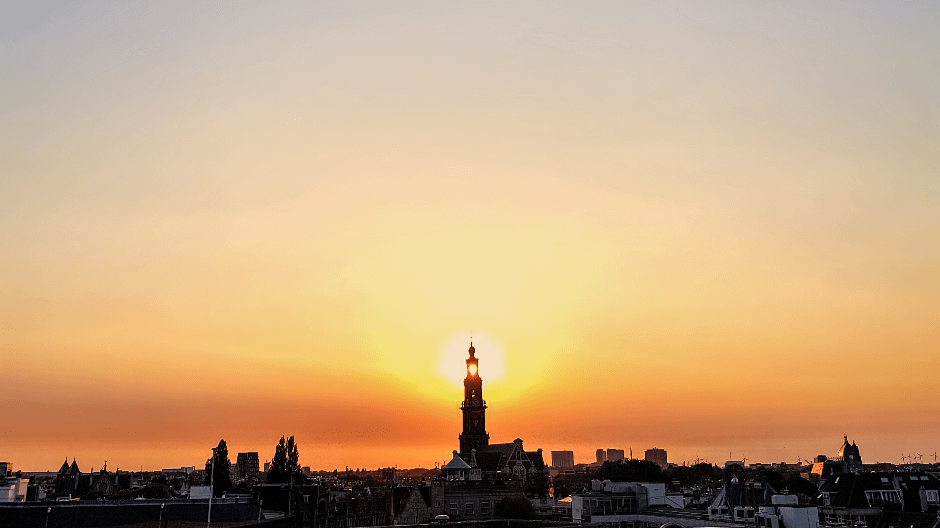 Roof terraces in the city center
Free, extra luxurious and a hidden gem. In these places you have the coolest view from the center of Amsterdam. Another advantage: it's close to our locations, so you can board a canal cruise or open boat straight from your exploring adventure.
SkyLounge
The Hilton SkyLounge next to the central station is on all the lists, so not very original, but we totally get why everyone writes about this. You go here for a nice cocktail and fancy bites while overlooking the center of the city. The outside terrace is not very big, so booking in advantage is a must. This is also a great spot in winter.
NEMO
This is one of our favorites free rooftop terraces in Amsterdam. You can reach the terrace after spending an afternoon in the museum, but you can also access it from the outside. Look out over the harbor basin in front of Amsterdam Central Station and see the replica of the VOC ship De Amsterdam. You can also watch Amsterdam East. Such a versatile view!
W Lounge
If you're wearing fancy pants, pay attention! Let's talk about W Lounge. This rooftop terrace belongs to the W Hotel underneath and has a fantastic view of the city center (and the Westertoren) and a swimming pool! The bath is only accessible to the guests of the hotel, but that does not matter for the view. Order a fancy cocktail and one of the perfect bites and enjoy!
Blue
One of the center's pot of gold: Blue. A tasty lunch and a good cup of coffee are the side dishes of your afternoon in this case, the main course is the view over the city. Even if you don't know Amsterdam by heart, this is a lot of fun, because they have made signs on the windows so you'll know exactly what you're looking at.
Westertoren
The Westertoren has a view to die for, but there's a tiny catch: climbing. For a small fee you can go up with a guide. You will hear interesting information about the tower and the city while climbing stairs and you will be rewarded even more with the view. See it this way: nobody has really gotten worse from a little extra exercise, so this is a great addition to your day in Amsterdam!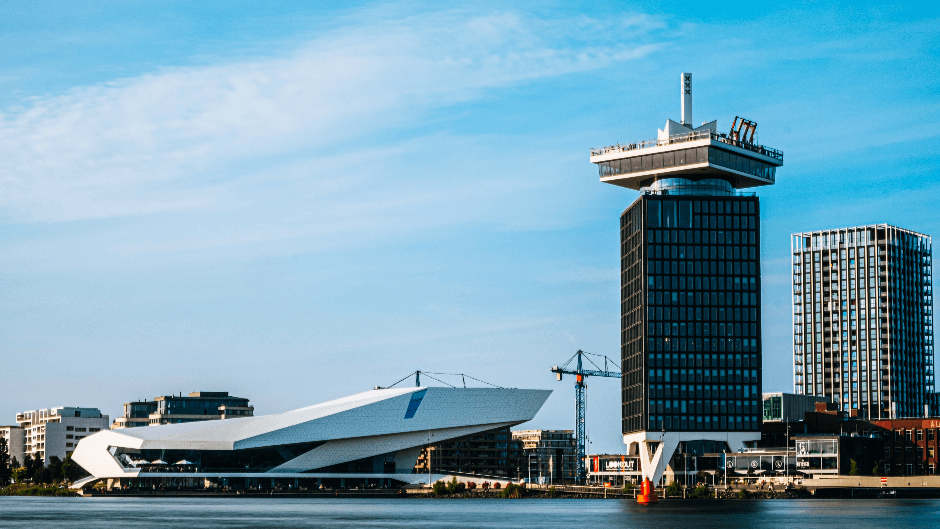 Rooftop bars in Noord
Amsterdam Noord is very easy to reach from Amsterdan Centraal. Look out over the IJ or listen to live music with a beautiful view over the district
A'DAM Lookout
An instant classic, that's how we can best describe the A'DAM Lookout. You go up with a super nice illuminated elevator, have a photo opportunity at a green screen and then you can go on the roof. Here you are treated to a great panoramic view of the city and.. you can swing on the highest swing in Europe. Score your tickets in advance, as it is a popular attraction.
On The Roof
This summer music spectacle takes place in the artistic, alternative part of Amsterdam - in other words: Amsterdam Noord. In the warmer summer months, artists are invited to do what they do best: make music. You do not necessarily have a beautiful view of the city, but you can sit comfortably on a roof terrace while you can dream away at fantastic tunes.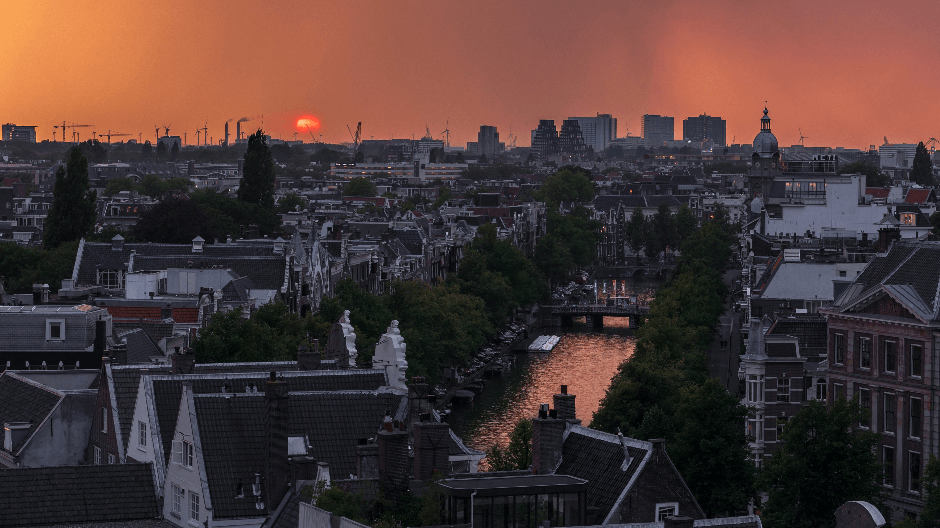 The best view in Amsterdam East
In the East you will find some exceptional views of the city, as well. You can study, dance until the sun rises and dine. Read along!
Canvas on the 7th
This rooftop terrace on the seventh floor of the Volkshotel has it all: you can have breakfast, lunch, dinner and there is a night program. The perfect place to have with a drink in one hand, the other arm around your best friends (or date - hello, you'll totally score points with this spot!) and watch over a nightly Amsterdam. Cool and hip, but without any fuss. You feel right at home here!
Zoku
Another place where you can stay all day. Whether you want to have lunch, dinner or work and study, everything is possible here. You'll look out over the entire city, whether you are indoors or outdoors. But of course, the roof terrace of this super fine and very relaxed decorated spot is the money shot. You're able to see the Wibautstraat and Amsterdam East. Especially at dusk this is a wonderful place to watch the sun set and celebrate another perfect day in Amsterdam.
Gapp
On top of the Casa Hotel in East you will find GAPP (also a Dutch equivolent of the word 'bro' or 'dude'). A true beer garden that towers high above the city. You're in a typical Amsterdam setting here and did you know that GAPP even has its own beer? They have launched Gabbe in collaboration with brewery De Eeuwige Jeugd. A unique beer at a unique location!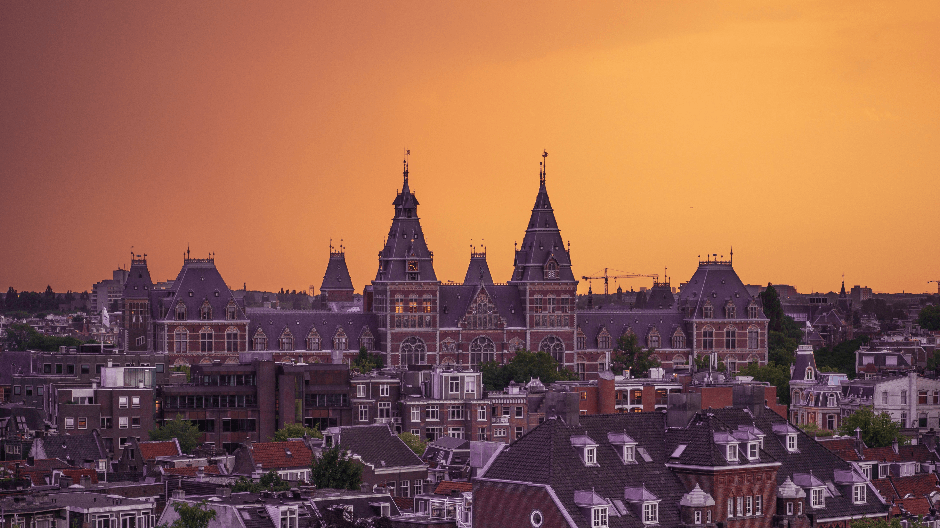 Roof terraces in South
Apart from the Zuidas, Amsterdam South does not really have tall buildings. A new hotel tower is being built next to Amsterdam RAI, but it is not open yet. We do, however, have another hotel bar in store for you.
Twenty Third Bar
The name already gives away on which floor you are, the 23rd of the luxurious Okura Hotel. Oe la laaa. Here you can splurge on a special evening meal or choose to feast on fantastic cocktails. It's all a bit fancy here, so don't expect to just walk in your shorts and tousled hair. Put in a little effort, it'll be worth it!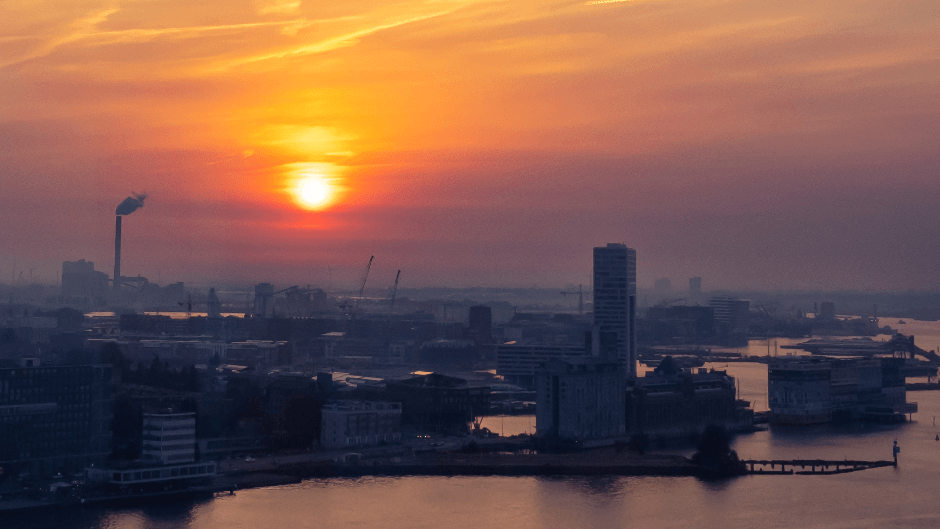 Rooftop bars West
In Amsterdam West we have also selected a few astonishing roof top terraces for you. From sipping on a mixed drink to summer movie nights.
Floor 17
This is also a personal favorite. On the seventeenth floor of the Leonardo Hotel (previously the Ramada Hotel) you gaze to Amsterdam from a distance. The hotel is located next to the Rembrandtpark, so you'll first look into the serene greenery and only then can you see the hectic city. The cocktails are delicious and dining here also feels like a party. In the summer they often organize movie nights on the roof - that's even more fun! Did you know that they also organize fun activities on the terrace during winter? Curling and ice rinks have already passed. What would they have in store for this year?
Bret
If you travel through Amsterdam Sloterdijk a lot, you just cannot miss Bret. The red cube is simply too conspicuous. In summer they organize many music evenings, but even without live music it is very nice up here. Go to Bret for a nice organic meal or dance until the sun comes up during the weekends.
Kantoor
This roof terrace is part of co-working space B., but you can also sit here when you're not working in the shared office. Have a mighty tasty lunch or dinner here, but the bites are not to be missed out on either. Through the large windows the sun magically shines all year round and during summer you can, of course, go to the rooftop terrace for a drink, a view and perhaps also to get a tan.
Amsterdam views during winter:
Most of the above options can also be visited in bad weather or when it is cold - such as in winter. We have two more options for you that do not have a roof terrace, but do offer really beautiful views of the city. Let's go!
OBA
The Public Library of Amsterdam (Openbare Bibliotheek Amsterdam) is also on many lists. Firstly, because it is an impressive building. So many books, tranquility and breathtaking architecture. It has all the ingredients to be a favorite. Secondly, because it's free to go up – even if you don't have a library card.Take the escalator to the top floor to marvel at the view of Oosterdok or walk to the other side for a special view of the railway from Amsterdam Central Station.
Juniper & Kin
You can find this bar on the top floor of the QO Hotel in Amsterdam East. It's within walking distance of Amstel Station, so you'll be there in no time. Here too you can see one side of the track and on the other side you'll gaze at the city from the east side. By the way, go to the toilet and get the outer booth. You'll sit at the window and are able to look all over Amsterdam! Well, that's truly something, isn't it?
Map of all the rooftop terraces in Amsterdam