We all love to have days off. Cruising from brunch to the terrace and from the park to a bar isn't an exception on those much needed weekends or holidays. But while one relaxes by doing nothing at all, we can also imagine a sporty activity will help you clear your mind. Of course you can go for a run in the park, but if you're looking for something different, we'll help you out!
1. SUPping in Amsterdam
SUP is an abbreviation for 'Stand Up Paddle' and it's basically explained as standing on a paddle board and cruising on the water and through the canals – it looks a bit like you're a gondolier. You'll be wearing a wetsuit so no worries about your cute summer dress or your freshly ironed slacks. One session of SUPping usually takes an hour and a half, which is just enough time to work on those arm muscles and a tan (don't forget to wear sunscreen, kids 😉).
There are two options for your SUP adventure: paddle through the city, with the advantage of bars and cafés close by and the beautiful city in the background of your water experience. You will, on the other hand, have a huge crowd if you fall off your board, tho. To eliminate the possibility of ending up as a classic blooper on YouTube, you can also choose to go SUPping in the Amsterdamse Bos. You'll cruise through tranquil nature, while enjoying the birds chirping and some good old sunshine.
2. Pedal boat in Amsterdam
If you're looking for another exciting way to explore the city, go check out the pedal boats in Amsterdam. On a pedalo you can check out Amsterdam from the best perspective: from the canals itself. Although you have to do the paddling yourself, this is the luxurious version of the SUP because you can sit down while being active at the same time. With the ducks swimming by and the beautiful canal houses at your sides, this is an ultimate way to get your workout done and do some sightseeing in Amsterdam.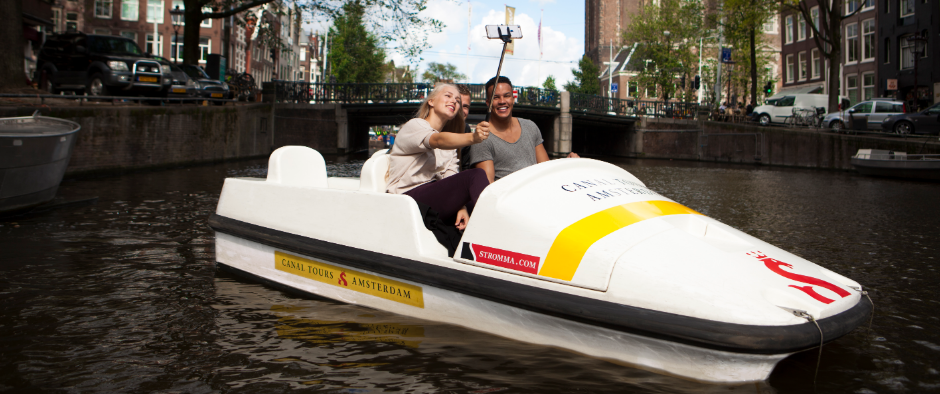 3. Rent a canoe in Amsterdam
We found yet another way to spend your day on the water – you shouldn't be surprised since the main way of transport of Amsterdam used to be through the canals. We recommend going to the Amsterdamse Bos to escape the urban jungle and hang out in real nature for a while. But you can also rent a canoe at Camping Zeeburg in the very east of Amsterdam. From this departure point you can enjoy both nature and discover the Eastern port area of Amsterdam. A combination of big boats and house boats can be discovered in this part of town.

4. Jeu de boules in Amsterdam
Lawn bowling – or how the French say "jeu de boules" or "pétanque" – is making a real comeback! And since the start of 2019 it's not just a sport that's enjoyed on a warm afternoon in France. A real jeu de boules court opened up in the east of Amsterdam. The best part about Mooie Boules: it's an all-in experience! Their food court is super appealing for having a drink and enjoying dinner before kicking your friends butts in an old fashioned game of lawn bowling!

5. Trampoline jumping in Amsterdam
You probably never noticed when you were younger, but trampoline jumping is a full body exercise. There are a few places you can jump your heart out. You find a trampoline hall in New West called Bounz and there's also one in Diemen. So like House of Pain said in the nineties: Jump around, jump up, jump up and get down.
6. Ice skating in Amsterdam
A timeless classic during those cozy winter times. We already mentioned it in our blog about winter activities in Amsterdam and we can't praise it enough: ice skating! During the holiday season multiple ice skating ranks pop up in the city, but one of our all time favorites is the Jaap Eden Baan in Amsterdam East. If you're a little competitive, you're about to have fun at the ice skating rink!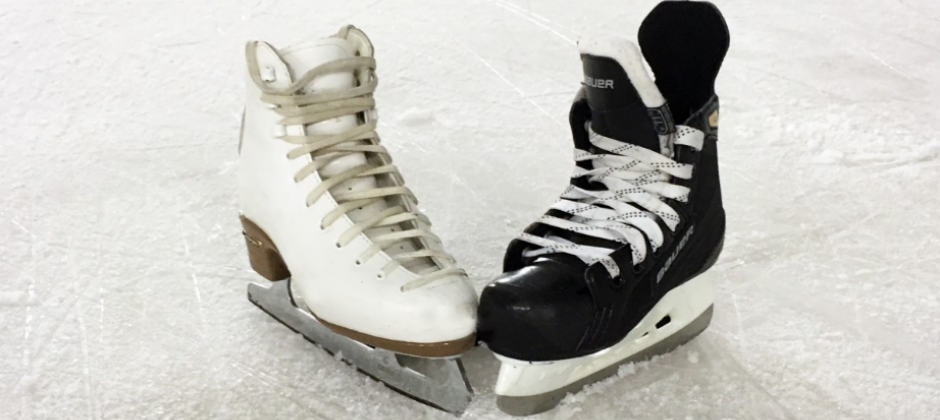 7. Laser tag in Amsterdam
Another nostalgic game that never seems to get old: laser tag! Running around in a giant outdoor arena, pretending to be part of a special forces team, hiding behind bushes and sneakily trying to tag your opponent. If this doesn't get your heart pumping, we don't know what will. We enjoy the laser tag arena of Laser Tag Amsterdam in the west of the city, since you can play outside and the playing field is huge. But there are also smaller venues where you can play inside when the weather isn't cooperative with your plans.

8. Bouldering in Amsterdam
This activity takes some practice, but there are enough beginners classes of bouldering to get you on the right track. Bouldering is a real hype right now and there are a few climbing halls where you can exercise (and show off, of course) your climbing skills. We really like De Klimmuur Amsterdam Centraal - next to the train tracks near Central Station to practice our Spiderman skills.

Map
What's your favorite sporty activity in Amsterdam? Look them up in our map below. Click to open in your browser or app to easily navigate to your next activity.