The I Amsterdam sign at Museum Square was one of the most popular and best photo spots of Amsterdam. But after the removal of the I Amsterdam letters, our palms are getting a bit sweaty. Because if the sign is gone, where should you go for your ultimate Amsterdam snapshot? Fortunately, the city has many more characteristic cityscapes and selfie-spots to capture your memories of Amsterdam. From sky high vantage points to magical canal cruises. We've listed our favorite photo spots in Amsterdam.
All the alternatives for the I Amsterdam letters can be reached by using the Hop On - Hop Off combo of the bus and boat.
1. Rijksmuseum
Let's forget the sweaty palms and see if there are any pros for taking down the prominent sign. For instance, you can finally shoot a beautiful picture of the Rijksmuseum - that used to be hidden behind the red and white letters. The 1885 building has been renovated recently, inside and out. So it would be a shame not to capture this beauty! Also, have you ever seen a historical museum you could cycle underneath? While photographing, watch out: the Amsterdam locals use this tunnel to cycle to work or school - full of speed and bravado.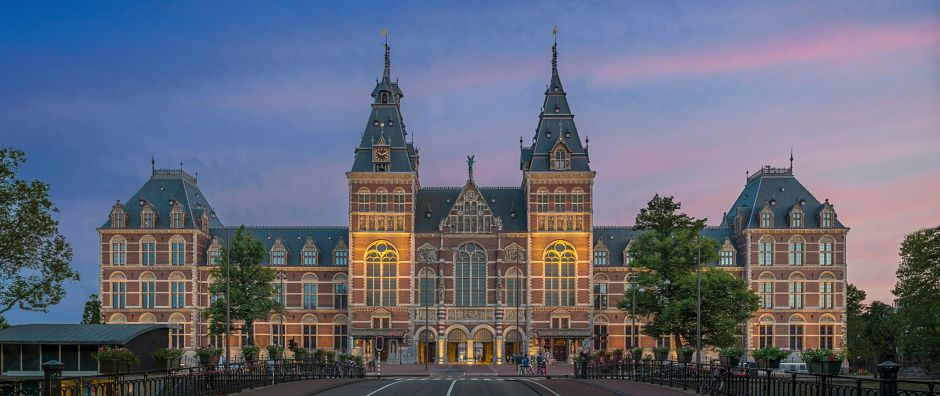 Photo by: John Lewis Marshall (2014)
address: Museumstraat 1, 1071 XX Amsterdam


2. Cuyperspassage
Speaking of bicycle tunnels: at the Cuyperspassage (attached to Amsterdam Central Station) you can take a picture with a combination of a few Dutch phenomenons. The tunnel has recently been tiled with Delft Blue inspired tiles with scenes of 17th century sailing ships. On a daily basis, around 15,000 people are enjoying their bicycle ride through this artfully decorated underpass. It'll be hard to capture something more Dutch than this.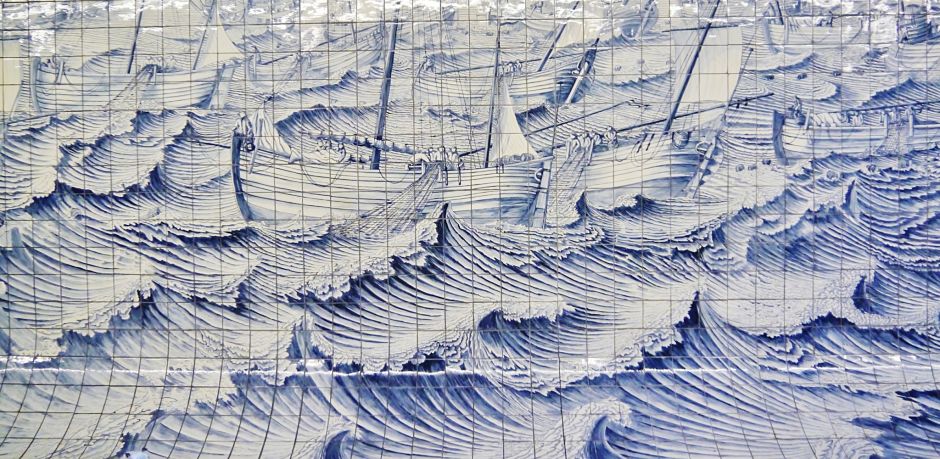 address: Stationsplein 39, 1012 AB Amsterdam


3. Bicycle flat
By now, it should be pretty clear that there's a huge bicycle culture in Amsterdam. People go grocery shopping on their bikes, cycle to work and even use cargo bikes to move house. But where are those bikes parked, you wonder? A bicycle flat is the answer! This 100 meter long construction has space for 2500 bikes. Of course you are allowed to walk onto this flat without a bike, so you can snap a nice shot of the thousands of bikes with a scenic background of some of the sweetest Amsterdam buildings.
4. A'DAM LOOKOUT
If you want to capture the city of Amsterdam from bird's-eye view, you should definitely check out the A'DAM LOOKOUT. In Amsterdam North, one short ferry ride away from Amsterdam Central Station, you'll find the A'dam Tower with a huge observation deck on top. From this rooftop terrace you'll have the perfect opportunity for a panorama picture from the city of Amsterdam. The real daredevils - or the ones in need of that perfect action shot - should risk the 100 meter high swings. The swing operator is always willing to take your picture, but of course you can shoot that picture yourself as well. Too much action for your taste? Inside you'll find a green screen photo opportunity where you can choose your own Amsterdam background.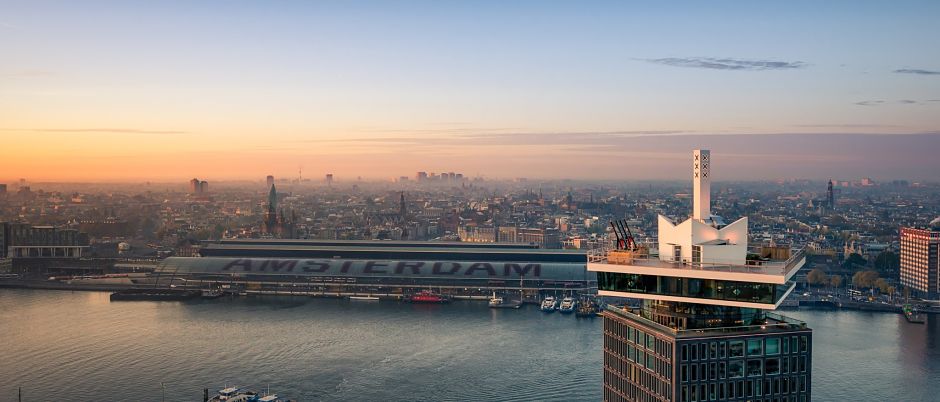 address: Overhoeksplein 5, 1051KS Amsterdam


5. Magere Brug (Skinny Bridge)
The Magere Brug (Skinny Bridge) is one of the most photographed bridges of Amsterdam. She owes her name to the (lack of) width and the maeger years of when the bridge was rebuild. You'll find the Magere Brug near the Waterlooplein market and the Hermitage museum. Especially after dusk the bridge and her 1,800 little light bulbs will make an alluring photograph. Couples often go here for a romantic snapshot or selfie, but you can also shoot great pictures from the bridge when you're on a boat.
address: Magere Brug, 1017 AK Amsterdam


6. Prinsengracht
Amsterdam is well known for all of its canals. The city centre has a few of the most beautiful canals you've ever seen. Herengracht, Keizersgracht and Prinsengracht are the three most celebrated and easy accessible. Let's talk about Prinsengracht, for an instance. Throughout winter this is one of the canals that freezes over, giving passersby the opportunity to ice skate. In summer, you'll find the Canal Pride and numerous other events on the Prinsengracht. Of course, you can also rent a boat or a pedal boat and cruise down the canal. Also, some of the building situated at the canalside, are part of the Unesco World Heritage. So you don't need to go onto the water to get a great picture. Imagine taking a nice photograph of the characteristically styled rooftops of the canal houses with a crisp blue and typically Dutch clouded sky behind them. That's surely one for the 'gram!

address: Prinsengracht, 1016GV Amsterdam


7. Amsterdam Light Festival
If you would like to experience Amsterdam from a different perspective, the Amsterdam Light Festival might be something for you! Bridges are shimmering and numerous light art installations will be glistening during the coldest and darkest months of the year (December and January). You can book yourself a unique canal cruise through Amsterdam - with a special route so you will encounter the beautiful light art - that's created just for this event. Don't forget to bring your camera to this event, since the sights will be extra dazzling. You are guaranteed to capture unique photos when you attend the Amsterdam Light Festival.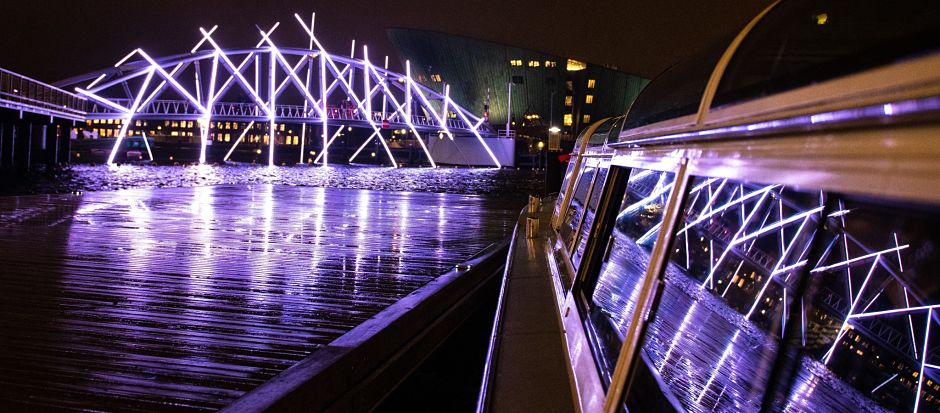 Hop on - hop off cruise
You can visit all the sights mentioned above - and more! - by foot, but why not cruise through the city? You are in the Netherlands after all! The hop on - hop off canal cruise offers you the comfort of a taxi ride, but with an added bonus of the charming cityscapes of Amsterdams canals.
Map of the best photo spots in Amsterdam