Together with WWF, Stromma Denmark have installed 20 Biohuts in the Copenhagen Harbor. Biohuts are fish hotels or artificial fish nurseries, which works as a pantry, a canteen, and a safe haven for small fish. The sheltering function of the Biohuts will increase the survival rate of the fish and increase biodiversity.
Protecting small fish and fry
In built environments such as the Copenhagen harbor, you often see the vertical sheet pile wall, which lacks the complexity and depth that is otherwise the basis for life to flourish. When you install Biohuts, you create what experts' term biological niches, which can become hotspots for life. Biohuts can protect the fish in a vulnerable stage of their life cycle and contribute to increasing the population and create a better harbor environment. Additionally, Biohuts provide food as algae and smaller organisms grow on the structure.
From experience, we know that the fish move into the Biohuts straight away and as a result, one can expect a fast impact in the shape of increased biodiversity and in time also more fish. An increased fish stock can as well have a positive effect on the fish populations outside the harbors, as many fish species migrate over large areas.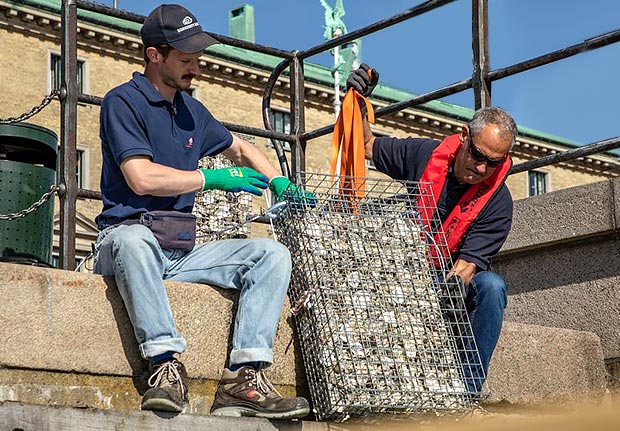 A chamber with empty oysters
A Biohut consists of a steel cage with a chamber filled with clean, empty oysters which have a complex exterior on which algae and small organisms can grow. The exterior steel cage protects the young fish with a size of up to 3 centimeters against larger predators, while the inner chamber provides the fish with food. Biohuts is a patented solution by the French company ECOCEAN. The Biohuts are installed approx. 20-50 centimeters below the surface of the water in locations where no one swims and where they won't get in contact with boats etc.
100 Biohuts in the Copenhagen Harbor
Biohut-projects are found in several locations in the world, particularly in the Mediterranean. In Denmark, Biohuts can also be found in Aarhus, Helsingør, Grenaa. The ambition in Copenhagen is to have 100 Biohuts installed in Copenhagen Harbor, making it the place in the world where most Biohuts are installed. With Strommas 20 Biohuts there are now 70 Biohuts in the harbor.