Do you want to discover Lofoten and its astonishing nature in Norway on your own? Bring your tent, luggage or bicycle on board and let Stromma buses transport you to the next stop. Hop on one day, stop along the way and continue the biking tour or hiking tour later the same day or the next coming day. Stromma bus tickets are flexible, and you can choose to split your adventures for multiple amounts of days, up to five days. For more information and bus tickets, go to Lofoten Arctic Summer Tour by Bus.
Tips of biking routes
Below you can find a handful of cycling routes that will allow you to avoid tunnels, busiest parts of main E10 road and discover Lofoten at your own pace. We have mountain bike racks onboard the buses and have limited number of bikes for rent on the bus for 250 nok/day. All routes have been prepared while minding our bus schedule. Remember to start the trip with morning bus and control your time to be able to catch last evening bus. All cycling trip durations are approximate.
Vikten – Nusfjord – Flakstad - Kvalvika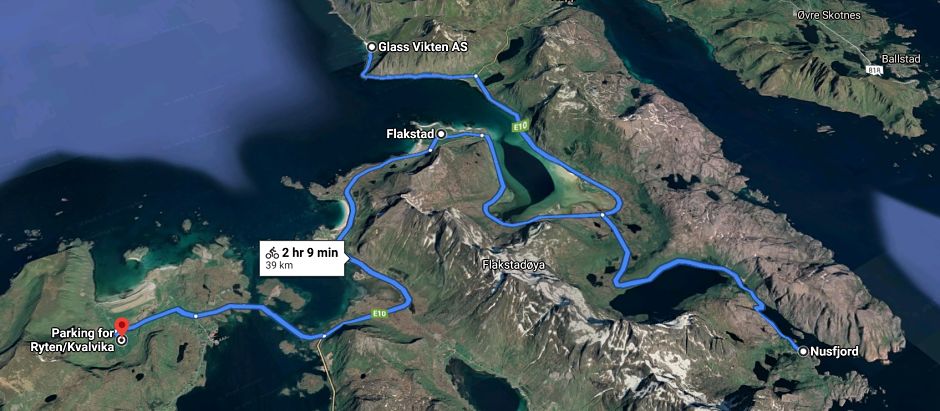 40 kilometer +/- 3 hours. We recommend getting off in Vikten with first morning bus. Over there you can visit Glasshytta, drink a coffee at cafe and hit the road. This route has 200 meter vertical incline and brings you to breathtaking views and beaches. You can have a break at Lofoten Beach Camp, where you can buy some warm food.
Reine - Kvalvika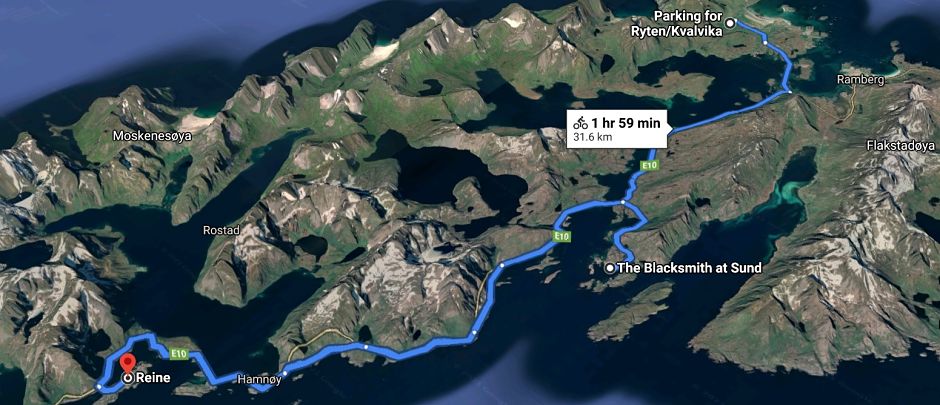 Catch a bus to Kvalvika and go back on a bike to Reine via Sund. What a dream Lofoten experience it is. Bike route is 30 kilometer long on a flat terrain and avoids tunnels with coastal old road. You can combine this trip with hiking to kvalvika beach!
Sundklakkbrua - Leknes



Beautiful 815 route along south coast will allow you to avoid busy E10 route and let you enjoy many small beaches on the way. 40 kilometer tour takes above 2 hours. In Leknes you can have a lunch at Scandic Leknes where our bus stops.
Sundklakkbrua - Gimsoya island roundtrip



A 30 kilometer flat, easy trip around the island is a great 2h, picturesque ride. If you start and return with a bus to Svolvaer you have 3 hours to finish the cycle to catch a returning bus. You can also connect this route with Henningsvaer and getting back on a bus at Rorvikstranda. This tour is 55km long and is more demanding, half-day trip.
Rorvikstranda – Henningsvaer - Rorvikstranda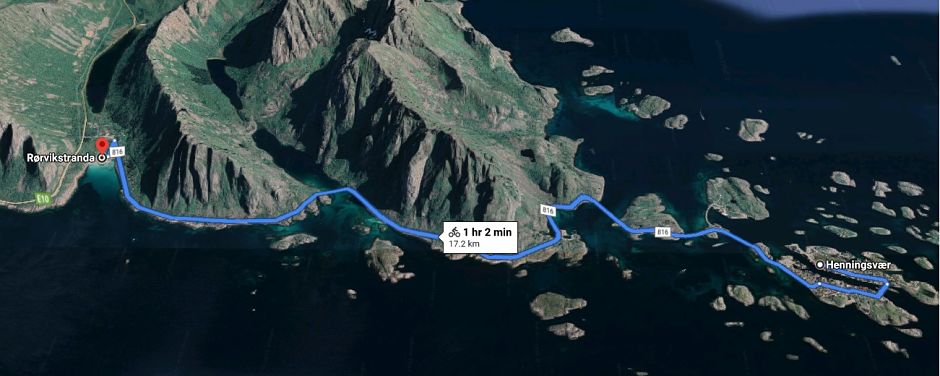 Feel like a chill day? Go for a relaxed route to vibrant Henningsvaer, have a lunch at one of many restaurants and pedal back to Rorvikstranda.
Tips of Lofoten hikes
We have prepared our bus stops minding your needs to explore the nature. Forget about the common parking problem in Lofoten and join us onboard. Below you can find a list of hiking options that you should visit in Lofoten and could easily access from our bus. Does Reinebringen, Kvalvika or Floya sound familiar? Have a look at following discriptions.
Napp to Vikten
This is 6 kilometer, around 2 hours 30 minutes hike with a great backstory. In the past it was used by fisherman from Vikten to carry the fish to Napp. We recommend starting from Lofoten Seaweed side.
Important: Remember to ask the driver (before reaching Lofoten Seaweed stop) to stop at the beginning of the hike, if you want to avoid walking for 1,5km on an ansfalt road.
Actual hike starts at the point marked on google maps as «Stornappstinden trail head». From there quickly turn left and follow the river towards Morkdalsvatnet. Just before the lake path turns right and from there the hike traverses through the valley and brings you straight Vikten. When you arrive to first fences in Vikten, turn left and go around fenced fields aiming to Vasskrokvatnet. When you reach the lake you will spot gravel road on the right side, which will lead you to the village. Our bus stops by Glasshytta. Don't forget to watch glassblower's craft and have a coffee at this great place.
Kvalvika – Ryten
Kvalvika beach- one way: 3 kilometer, 1,5 hour
Ryten - one way: 3,5 kilometer, 2 hours
Starting from our stop at the parking at Indresand, follow the well marked path. Continue until you see the lake Forsvatnet further down on your left hand side. This is where the path splits in two directions: towards Ryten or towards Kvalvika. If you decide to go up to Ryten first, you follow the path up the hill. If you follow the path that goes along the edge on the left, you get the most spectacular view. But the cliffs are very steep, so please be careful! When you approach the top of Ryten, the terrain becomes flatter. From the cairn at the top you get a great view over the open sea towards the north. After having hiked to the top, many people like to go down to the beach. Follow the path back down to the lake Forsvatnet and then follow the path from there down the hill towards the beach.
Mulitday variation
If you feel more adventourous, concider getting of at Kvalvika, walking to the beach, going out other way (direction Selfjord) and continuing to Selfjordhytta overnight (dnt cabin). Next morning continue from Selfjordhytta torward Horseidstranda (4h hike), from where its only 1h walk to ferry going to Reine! Our bus stops in Reine, of course. That's what you call an adventure!
Reinebringen
Reinebringen, with its 360 degree view over the fishing villages, sea and mountains, is one of the most popular hike in the Lofoten Islands. While it's only 3 kilometer long, there is a steep incline most of the way (510 meter incline). From our stop at Reine Visitor Center you first need to walk 1,3 kilometer in direction of Moskenes before getting onto a path. Remember, you need to be in a good physical shape to do this trip.
Djelveportalen and floya
Djevelporten hike is a beautiful hike starting in downtown Svolvær in Lofoten. This short, well-marked but steep hike takes you from Svolvær and straight up to an altitude of almost 600 meter in about 2 hours. On the trip you get a great view of the famous Svolværgeita, a stop by the picture-worthy Djevelporten and then a fabulous view of East Lofoten from the top of Fløya. Though be advised: the very final part up to Fløya is only for experienced hikers, however the view a couple of meters further down is just as spectacular!
Ramberg
Trip to Moltinden (696 moh). 4 kilometer roundtip to the peak of a mountain with an open horizon is always a good idea! For directions about the path, please ask in our partner Tourisit Information in Ramberg. Our bus stop just outside of it.