The artificial ski slope CopenHill is among the coolest places to visit
Even though the winter is cold and sometimes snowy in Denmark, skiing is not an option in this flat country. Not until now! CopenHill, an artificial ski slope, makes skiing in Copenhagen possible all year. CopenHill is among TIME magazine's 50 coolest places on earth for kids.
Making sustainable living fun
CopenHill is a waste-to-energy plant with multiple purposes. Besides being a clean power plant, that creates energy by burning waste, the facility features a public park with several activities. These activities include a hiking trail, the world's tallest artificial climbing wall and of course the 450-meter-long ski slope. Altogether making it among the coolest places on earth for kids according to TIME, the New York based news magazine. See the full list here.
The slope is made from green plastic called Neveplast which gives the sensation of skiing or snowboarding but doesn't rely on cold temperatures or machine-made snow.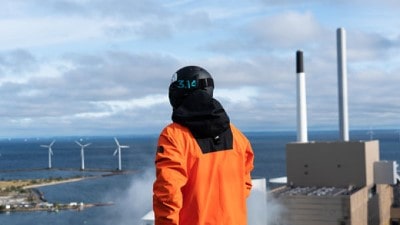 The best view in Copenhagen – and it's free
If you are curious to see the spectacular facility but don't feel like skiing, you are welcome to hike/walk up the hill using the path systems or the stairs – or just the lift. Rising 85 meter above ground, CopenHill gives you the best view of Copenhagen. The walking routes will take you through exciting green landscapes and are accessible for the public during opening hours free of charge. In 2020 it will also be possible to climb a 85 meter tall climbing wall on the outside of the plant.
Visit CopenHills website for opening hours and more info.