Discover Copenhagen's colorful houses
#1 Nyhavn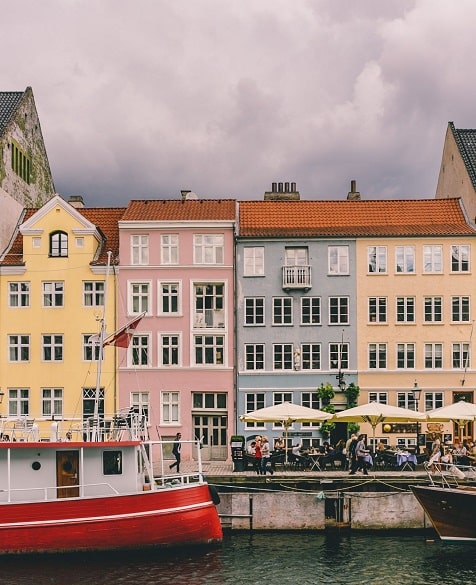 Nyhavn, meaning New Harbor, was originally a busy commercial port where ships from around the world would dock, and the streets would be filled with sailors, pubs, and ladies of the night. Today, the pubs remain but the people are a mixture of locals and tourists. And we understand why. The colorful houses all along the harbor create a wonderful atmosphere where you can enjoy a coffee break on the pier while watching the world pass by.

Experience Nyhavn on board our Classic Canal Tour or travel back in time with the podwalk 'The Slaves of Copenhagen' which will show you an entirely different side of Nyhavn.


#2 Gernersgade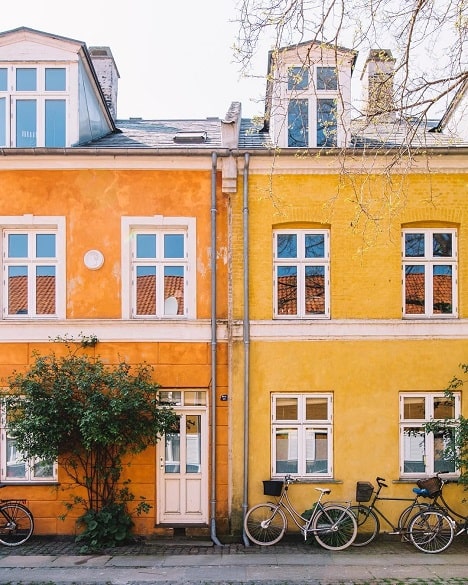 This cozy residential street will most definitely bring a smile to your lips - even on a grey and rainy day. The beautiful suncoloured houses stands side-by-side on this cobblestone covered street, and you are likely to envy the people who live here! Gernersgade is located just a hop, skip and jump away from Nyboder, which you should definitely not miss, so tie your shoes and get your camera ready, as you will for sure get the perfect Instagrammable pictures.


#3 Sofiegade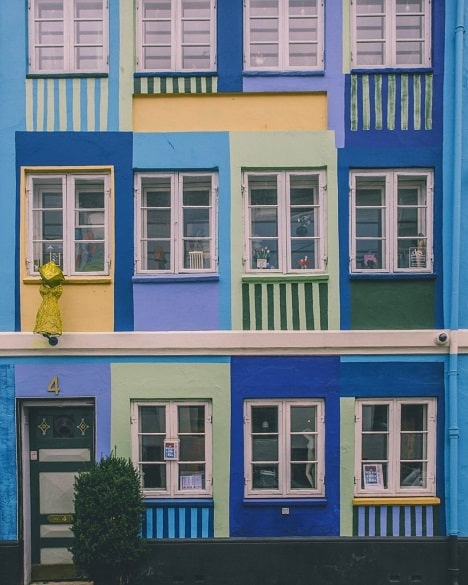 If you like quirky and a bit of crazy, find your way to Christianshavn and Sofiegade and let yourself be hypnotized by this beautiful, unique facade that will make you think of circus. The house embodies the special charm of Christianshavn, where everything doesn't have to be polished and perfect, but where quirky and imperfect are more than welcome.


#4 Overgaden Oven Vandet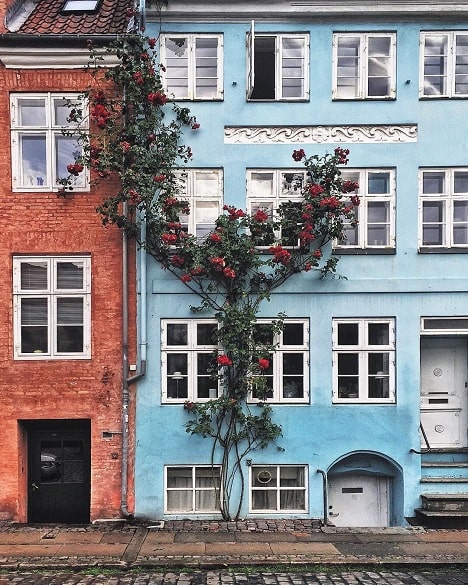 Colorful houses on one side, the cozy Christianshavns canal to the other, cobblestones beneath your feet and blue sky (hopefully) above. What more could you want? Just around the corner from Sofiegade, Overgaden Oven Vandet, roughly translated to "the pier above the water", likewise embraces the unique atmosphere Christianshavn has, and take a stroll along the canal and maybe stop by one of the cozy cafés for a coffee and danish.


#5 Palads

If you walk around the city center, you cannot miss Palads. The building was originally a train station in the first half of the 1900s but was later converted into a movie theater which it remains today. In 1989, it got its colorful pastel design from the Danish artist Paul Gernes.
These are just some of our favorite colorful houses in Copenhagen, but you will most certainly discover more when you explore the city and the different neighborhoods. So, what are you waiting for – go explore! If you want a more comfortable way of getting around the city to discover its colorful places, you can join a Hop On–Hop Off bus tour and easily hop off close to the colorful streets.
Photo credit: Wonderful Copenhagen