Collecting litter from the canals
At Stromma we always focus on working in a sustainable responsible way. We love Copenhagen and the canals we sail on. In the future we want to still be able to show our clean canals and harbors to visitors and tell them, that the water is so clean, you can swim in it.
As an effort to help keep the canals clean we have installed two Seabins - sea litter bins - by our ticket office in Nyhavn. The Seabins are a collaboration between Stromma, the World Wide Fund for nature (WWF) and City&Port.
How do the Seabins work?
The Seabins collect litter floating in the surface of the water. The litter is sucked into a catch bag inside the Seabin with the help of a submersible water pump. The pump has a capacity of 25,000 liters per hour! The water is then pumped out of the Seabin, leaving the rubbish trapped in the catch bag. An 'oil pad' in the Seabin will suck in oil and also collect microfibres as small as 2 milimetres.

How much litter can a Seabin collect?
A Seabin can collect about 1.5 kg of floating litter, depending on the weather and the amount of litter floating in the water. We expect to empty the Seabins twise a day and collect almost 2 tons litter from the canal each year.
The most commonly caught objects by Seabins are cigarettes butts (29% of all rubbish caught). Plastic fragments (28%) and food wrappers (26%) are also very common, followed by foam particles (5%), bottle caps (4%), straws, stirrers (2%), cans and plastic bags (1%).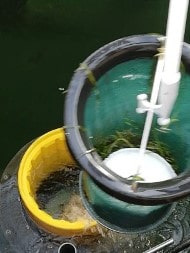 Where can I see the new Seabins?
If you want to have a look at the Seabins, come sail with us from Nyhavn. The Seabins will be right under your feet, where you can have a look at the days catch of floating waste.
We sail every day – even when it is dark and cold outside. The boats are covered and heated and lit up by delightful lights.
And see you in Nyhavn!