*** ENGLISH BELOW ***
De grachten in tegen ALS
Op zondag 8 september 2019 springen ruim drieduizend sportievelingen de grachten in tijdens de 8e editie van de Amsterdam City Swim. Dit jaarlijkse evenement heeft als doel aandacht voor de spierziekte ALS (Amyotrofische Laterale Sclerose) te genereren en geld bijeen te brengen voor onderzoek naar deze meedogenloze ziekte.
Stromma Nederland tegen ALS
De stad Amsterdam en de Amsterdam City Swim zijn onlosmakelijk met elkaar verbonden. Als gastheer van de stad Amsterdam omarmen wij het sportieve evenement dat plaatsvindt in de Amsterdamse grachten, ons dagelijkse werkterrein. Al vanaf de eerste editie van de Amsterdam City Swim zijn we dan ook supplier van dit evenement. Naast de jaarlijkse financiële bijdrage ondersteunen we deze editie met een speciale actie:

Van elk verkocht waterfietsticket in de maanden juni t/m oktober 2019 draagt Stromma € 0,50 af aan de Stichting Amsterdam City Swim.
Sportief team
Een team van sportieve Stromma collega's zwemt jaarlijks mee om donatiegeld op te halen. Sommige collega's, zoals Willemijn van Breda, zwemmen zelfs al mee vanaf de eerste editie. Zij hebben dus per persoon al ruim 12 kilometer door de Amsterdamse grachten gezwommen voor ALS!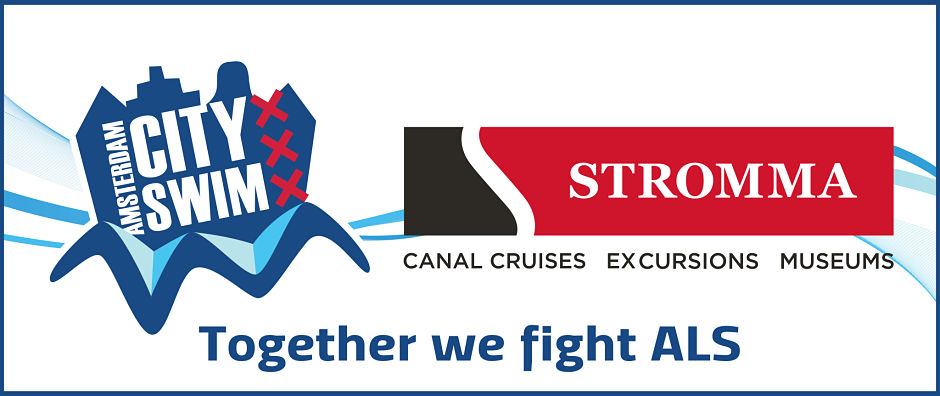 Dive into the canals to fight ALS
On Sunday 8 September 2019, more than three thousand sportsmen and women will jump into the canals during the 8th edition of the Amsterdam City Swim. This annual event aims to generate attention for the muscle disease ALS (Amyotrophic Lateral Sclerosis) and raise funds for research into underexposed diseases.
Stromma Netherlands supports Amsterdam City Swim
The city of Amsterdam and the Amsterdam City Swim are inextricably linked. As the host of Amsterdam, we embrace the event that takes place in the Amsterdam canals, which is our daily work area. From the very first edition of the Amsterdam City Swim, we have been a supplier of this event. In addition to the annual financial contribution we support this edition with a special campaign:
Stromma donates € 0.50 to the Amsterdam City Swim Foundation for each pedal boat ticket sold in the months of June to October 2019.
Sporting team
A team of sporty Stromma colleagues attends the event every year to raise donations. Some colleagues, such as Willemijn van Breda, has been attending every single edition! So they have swum more than 12 kilometres per person in the Amsterdam canals for ALS!