Stromma's festival canal cruises are back! Buy your ticket online with discount and secure your seat! From November 30, 2023 to January 21, 2024, the Amsterdam Light Festival sets our capital in the spotlight.

During the dark, but cozy, months, the city glistens with light art installations. Experience it up close on a canal cruise. We are delighted to be able to once again be amazed by original works of light art during this year's Amsterdam Light Festival.
Departure times and location
All our Amsterdam Light Festival Canal Cruises departure from Damrak Pier 5. A 2-minute walk from the main entrance of Central Station. The first departure is at 17:00 and the last one at 21:30. On Sunday, Monday and Tuesday the last departure is at 20:30 except during the Christmas Holiday.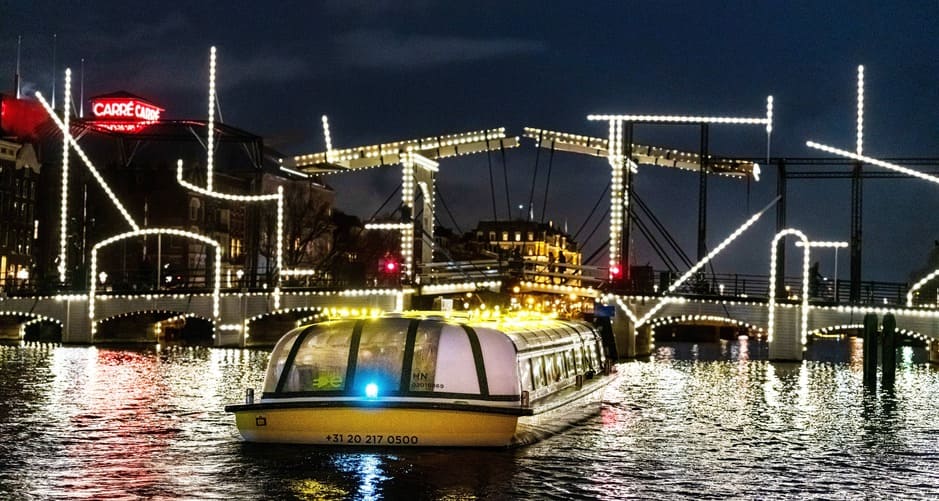 Light Festival Canal Cruise
The popular Amsterdam Light Festival Canal Cruise takes you along the entire route while you sit relaxed on a heated boat with an optimal view of twenty inspiring works of art. The first departure is at 17:00 when is getting dark in the city.
Light Festival Open Boat Tour
Want to see the light installations up close? Then book an Open Boat Tour with Stromma where we will provide blankets to protect your from any lower temperatures. Snuggle close to your partner, friends or family member and enjoy the festival in a smaller group, in the open air on an electric boat.
Do you have something special to celebrate? Then check out our overview of our canal tours for private groups during Amsterdam Light Festival.

Where does the festival takes place?
The route of Amsterdam Light Festival is a little different from previous years. The festival used to run through the eastern part of the city but this year it will take you more through the center.
Official Amsterdam Light Festival Route
The official route our canal cruises and boat tours take. Read everything you need to know about the route
Special Theme 2023-2024
The theme of edition 12 is very relevant: LOADING… Revealing Art, AI and Tech. The artists have been asked to think about the effect of Technology & AI on our everyday lives. It affects the way we communicate, engage and create. What is its impact on society and people? The different perspectives will be highlighted during this year's Amsterdam Light Festival.
FAQ – Amsterdam Light Festival cruises
Are you curious about all the information you need about Stromma festival tours? Then take a look at the frequently asked questions about the festival.
All tickets include the mandatory Amsterdam Light Festival surcharge that is required to sail in the festival area. So there are no extra costs!