Enjoy a terrace with the best sea view!
Enjoy the selection of our ship's cafe while taking a cruise around the archipelago. The ships' café/bar also offers several cool and warm drinks and beverages. Enjoy the refreshments on the large sun deck or comfortably inside our cruise vessels.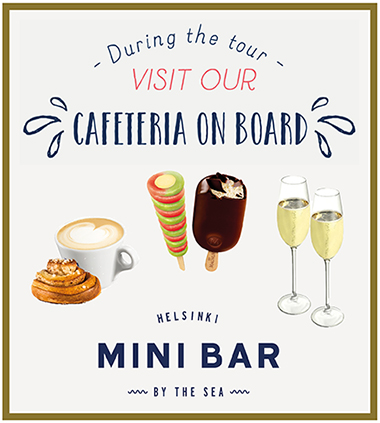 Download the menu

CAFÉ MENU HERE >>
(Price list PDF 53 kt)
We accept payments both by cash and credit card.
Catering also for groups
An archipelago cruise is the best Helsinki program for groups too! The cruise is topped off with delicacies from the ship's cafe. Please contact our sales service well in advance of the cruise to arrange catering!
Our onboard personnel is at your service
Our onboard personnel is at you service throughout your cruise. Pop in the ship's café if you have any questions! In the café you'll also find route maps of the cruise, blankets to borrow for chilly days on the deck and a WC/restroom.
Free Wi-Fi onboard
A free Wi-Fi connection is available on all of our boats. No separate password required!
Help us to keep the sea clean
The Baltic Sea is dear to us and we all need to do our bit to keep it healthy and clean. Remember to bring your trash to the bins and don't throw anything to the sea.
Comfortable interior:

A large sun deck:

Ship's cafe is at your service on the following cruises: