8490
Netherlands
Amsterdam
Amsterdam Light Festival route
The official route 2023-2024 – information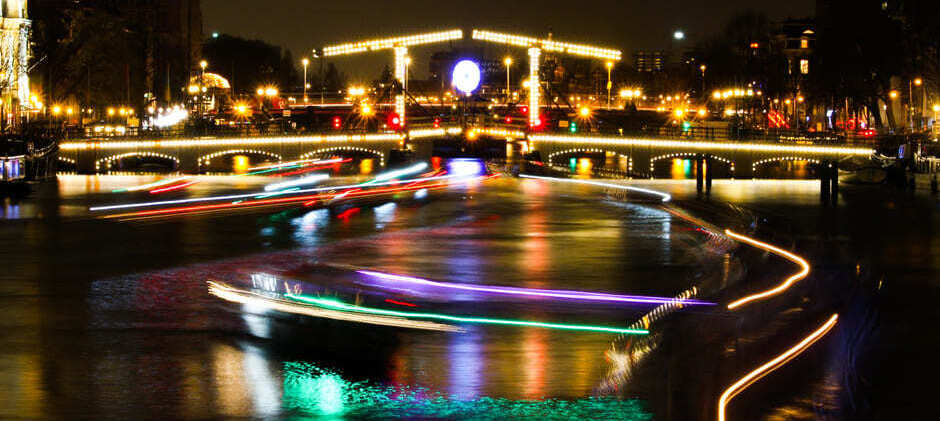 The route of Amsterdam Light Festival is a little different from previous years. The festival used to run through the eastern part of the city but this year it will take you more through the center. As soon as more information is available we will mention it here.
The official route of Amsterdam Light Festival
The route this year will go more through the city center. Among others, the Herengracht, Amstel and Oosterdok.
Looking for Tickets?
For the best festival experience, book one our Amsterdam Light Festival Canal Cruise on a heated boot or cozy on a our smaller Amsterdam Light Festival Open Boat.
Festival dates 2023-2024
Amsterdam Light Festival lasts 53 days, from Novemebr 30, 2023 to Jan. 21, 2024. During this period, you can glimpse the illuminated light sculptures between 5 p.m. and 9:30 p.m. On Sunday, Monday and Tuesday, the lights will go out an hour earlier, at 9:30 pm. Last sailing on these days is at 8:30 pm. New Year's Eve is also an exception with a "closing time" at 5:15 p.m. to make room for fireworks that will illuminate the city.
Departure point for Stromma festival cruises
Our boats that sail on the official Amsterdam Light Festival route depart from Damrak 16. That's a 3-minute walk from the main entrance of Central Station towards Dam Square, and a 4 min. walk from the middle of Dam Square towards Central Station.
You will find our Stromma's jetties on the left side on the Damrak if you walk from Central Station, and on the right side if you walk from Dam Square. You recognize them by the yellow and white coloured signs. Several trams pass our jetties, such as tram 2, 4, 12, & 17. Get off at Central Station or Dam Square. Read more and see map of all Stromma departure points.
This website does not support Internet Explorer, to ensure that the site works properly we recommend that you use another browser e.g. Microsoft Edge or Google Chrome.