We could go for burgers any day of the week. But in a culinary city as Amsterdam, where do you go? We went on a field trip and tried out a bunch of burger bars. As you expect, it was really hard to eat all those delicious creations. But hey, it's a small sacrifice we just had to make to keep you guys happy.
These restaurants all are within close range of one of our Hop On – Hop Off stops. Combine the green bus and boat to easily reach your next favorite burger.
Check out our map below to see where you can munch!
Ellis Gourmet Burger
First up is Ellis Gourmet Burger. With three locations, there's always an Ellis nearby. And boy, you want to go here. The burgers are thick and juicy, just the way we like it. They have an extensive choice of burgers on their menu. We absolutely love The Beyond Burger, which is a classic but vegan burger that is indistinguishable from actual meat. And don't hesitate to check out the seasonal (non-vegan) burgers, as well. You better have a big appetite when coming here, since there's no way you're leaving the place without ordering one of the signature sides like union rings or parmesan potato churros! Or… a dessert. When's the last time you've had Banana Split Pancakes?!
Addresses: Gravenstraat 20 (behind the Dam), Prinsengracht 422 (close to Leidseplein) or Singel 161A (City Center)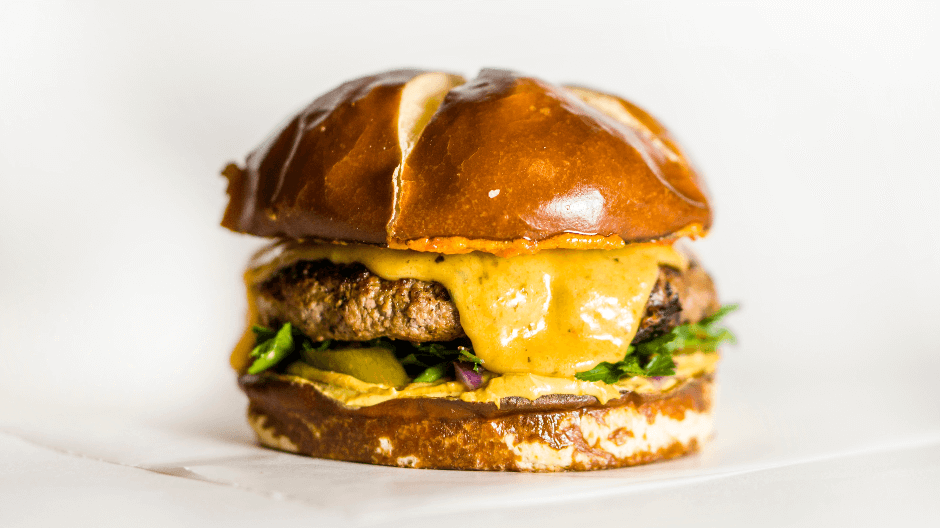 Vegan Junk Food Bar
The name already reveals this restaurant's (with four locations) unique selling point: good old vegan junk food. Because it doesn't mean you only want to eat salads and super healthy when you decide to cut meat out of your diet. With a name like this, they've got expectations to meet. And they actually do! This time we're writing about burgers only, but they've got way more in store for you. Our favorites are the Original Vegan Junk Food Burger and the Daddy McChik'n (which comes with a pink and blue bun, omg!). Go for a Bailey's infused cheeze cake to top of your meal and you won't have to eat in a while. Hm hm hmmm.
Addresses: Staringplein 22 (West), Marie Heinekenplein 9-10 (South), Eerste van Swindenstraat 389 (East) and Reguliersdwarsstraat 57 (City Center)
Lombardo's
It's easy to just walk by Lombardo's since the size of the place resembles a dent in the wall, which also makes this burger bar a tat more exclusive than your average burger joint. So praise yourself for reading this and experience the burger magic – as they would describe it. Opt for a classic like the Lamb Burger of go crazy on a Truffle Burger or their famous Signature Burger made out of Japanese Wagyu ánd Black Angus beef. Our mouths start to water just thinking of this one. Lombardo's is fairly close to Museum Square, so you can go here before heading to Rijksmuseum for instance. Don't forget to wipe the juice and grease off of your face and fingers before you enter the museum, you slayer of burgers!
Address: Nieuwe Spiegelstraat 50 (close to Rijksmuseum)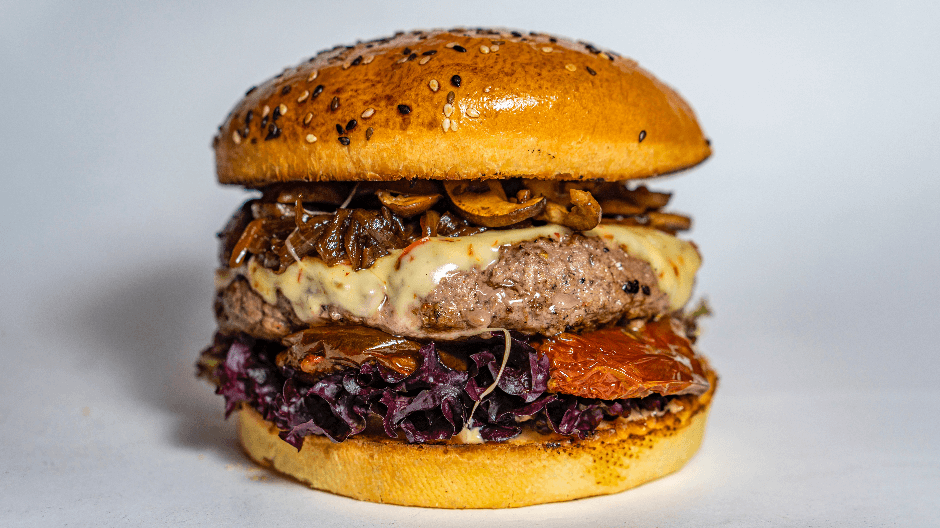 Cannibale Royale
Another burger place that has made itself an instant classic: Cannibale Royale. And if you've ever been, you'll understand why. They've found the perfect balance between great beers and delicious burgers. There's something for every appetite and you can choose way more than just meat on a bun. Veggie burgers, ribs, rack of lamb and – if you really like to: veggies. Ask for beers to go with your dinner, since the staff is well informed about which drinks suits your burger the best!
Addresses: Rozengracht 114 , Handboogstraat 17a (City Center), Lange Niezel 15 (Red Light District), Ruysdaelkade 149 and Mt. Ondinaweg 32 (North)
Rottiserie
Like they say themselves: the best cock and buns in town. Quite ambiguous if you ask us, but hey, the live up to the standards. Their menu consists of a combination of chicken and burgers (and a lost plate of BBQ ribs) and they're all just really tasty. Something that separated the boys from the men: the shaaakes. You can choose from an Oreo shake or a M&M shake. Go for the Oreo shake if you're looking for a boozy drink, since you can ask the staff to add a sip of rum to your chocolate-y goodness.
Addresses: Beukenplein 17 (West) and De Clerqstraat 81H (West)
The Butcher
This burger place started small in 2012 but is now on its way to world domination. Naah, kidding, maybe they're not taking over the entire globe, but they've been hustling in Amsterdam like crazy and are now even open in Berlin, Ibiza and Dubai. You get why, once you've tried their truffle burger, for instance. Did you know there's a secret (not so secret) cocktail bar behind The Butcher at the Albert Cuyp Market? You need to score a password to get in there, so it's pretty exclusive! Back to the burgers: all of them are equally as good and you can choose from more than 15 burgers and a lot of delicious sides.
Addresses: Bellamyplein 51 (inside the Foodhallen, West), Albert Cuypstraat 129 (South), Paleisstraat 14 (behind the Dam), Overhoeksplein 1 (near LOOKOUT and This is Holland, North) and Nieuwezijds Voorburgwal 182I (inside Magna Plaza food court).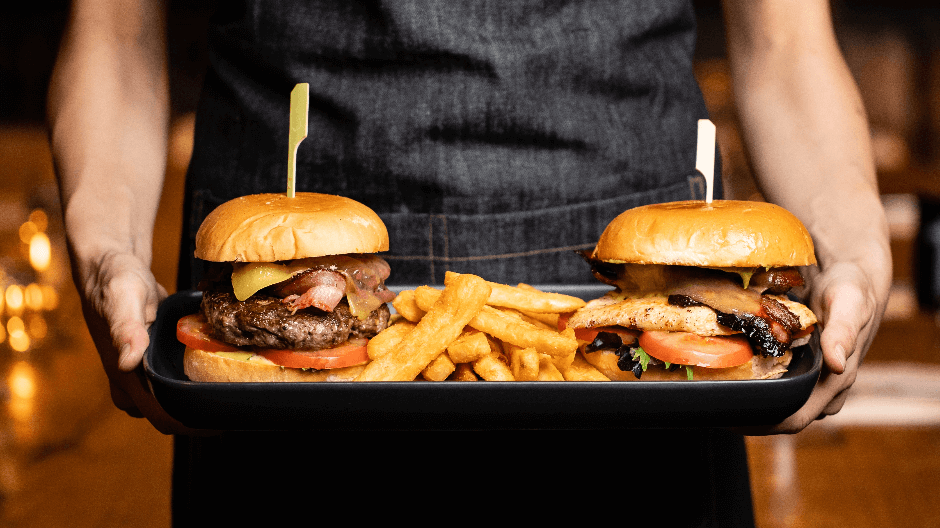 Map of the best hamburgers in town!
Check out our map below to see which one of these favorite burger restaurants in Amsterdam is the closest to you! Bon appetit!