Holidays outside the Dutch borders are still not very appealing for the locals, so take a look at what fun days out you can have in your own country and city! Earlier we've written about what you can do as a family and as a couple in Amsterdam and we are now adding a roommate edition to the chest of knowledge.
Safely together
We have combined different kinds of activities for about four people (or less, of course!) into a nice list. From fantastic photo opportunities, a nice lunch, spending time on the water, to a museum and your dinner plans. Read on to know where you can go.
To not overburden the public transport, we recommend that you visit everything with the old-fashioned leg mobile or of course cycle away at your own or rented bicycle. Do not forget to book your favorite attractions and eateries in advance, because without a ticket purchased or a reservation made, you will not get in.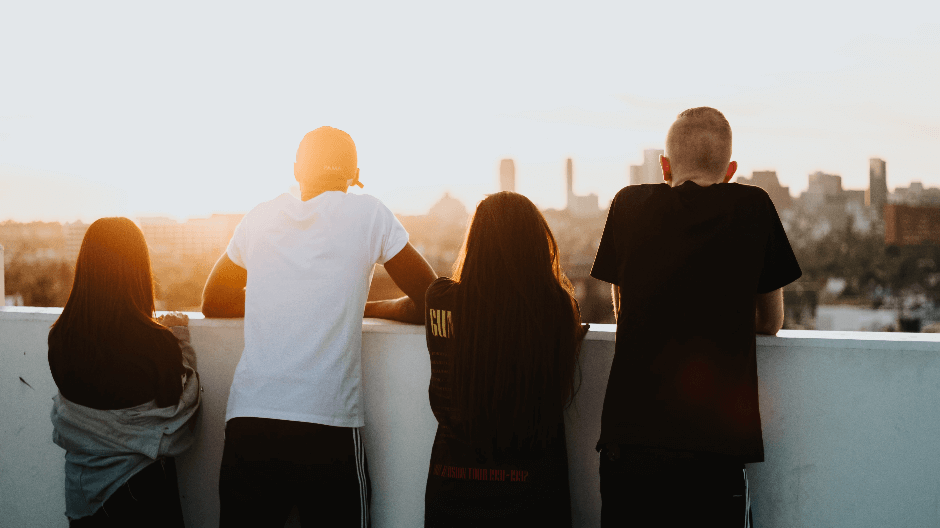 Wondr Experience vs. A'DAM LOOKOUT
Let's start the day in Amsterdam North - also called the Berlin of the Low Lands. The industrial atmosphere make many photographers take the ferry and shoot the day away. Don't forget the slightly alternative restaurants and cafes - which give that raw edge to the now polished Amsterdam!
Speaking of photography: have you ever been to Wondr? This is a really nice spot to take photos. You can lose yourself here in the hip colored ball boxes, disco ball rooms and other colorful decors. Every space is a piece of art on itself - and the beauty of it all: you can participate in the art yourself. Very nice for a cool snapshot to shine on the 'gram. Or just for the collection of crazy photos that are shown at every birthday party.
Or go for a more thrilling outing and take the highest swing in Europe - which you can find on the roof terrace of the A'DAM Tower. From A'DAM LOOKOUT you have a fantastic view over the city. The rooftop terrace has a bar, so you can look watch our beautiful capital while enjoying a delicious cold treat. Whoosh, the wind blows through your hair and let's see if you can spot the turrets of the Rijksmuseum!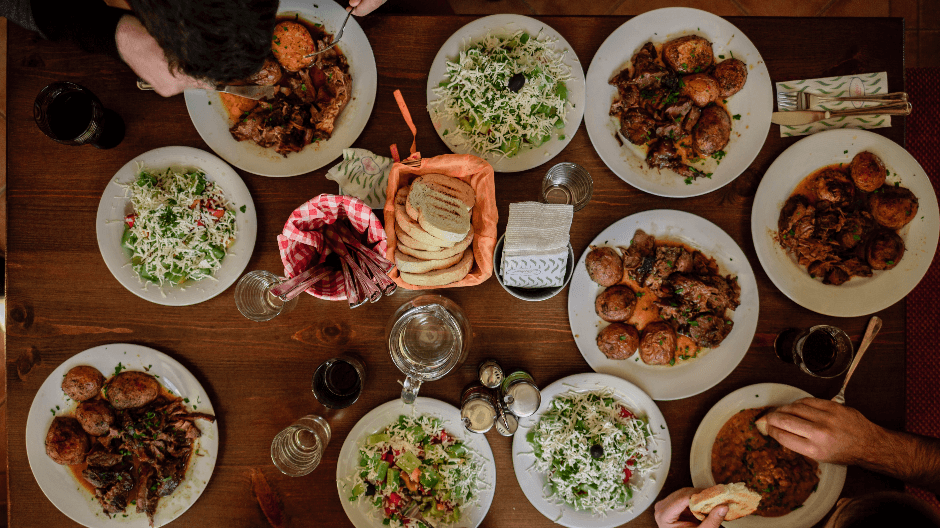 Hannekes Boom vs. Mister Nieges
Hey, you've got to eat, right?! We came up with two options near Amsterdam Central Station, so that you can go straight from Wondr or the A'DAM LOOKOUT to a nice bite with – again - stunning views.
Hannekes Boom is located on the east side of the station and is right at the water. You can dangle your legs over the edge of the quay while you enjoy a cold one or a tasty lunch. The menu changes on a monthly basis, so we cannot list one favorite. It is also enjoyable here at night. The boats keep coming and going, so you always have something to look at. In addition: have you ever sat at Hannekes Boom during sunset? Almost magical, dude!
Mister Nieges is on the west side of the station. Although this restaurant has only been in Amsterdam for four years, it has been one of the classics of the city since the very beginning! You look out over the IJ river, while enjoying an organic sandwich, salad or other dish. At this spot you can also dangle your legs over the water border and watch boats. Or choose to linger on the lounge platforms and watch the beautiful people from behind your sunglasses. Guess what we'd do!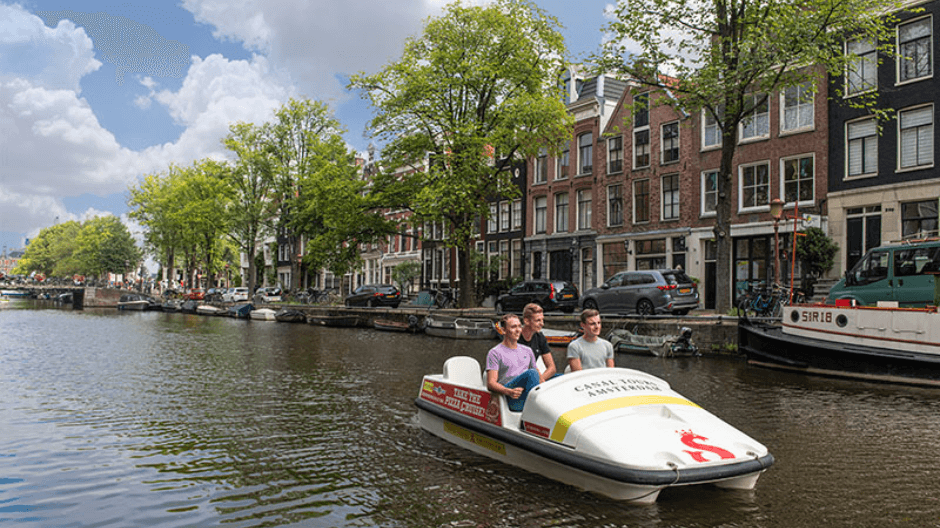 Open boat vs. Pedal boat
Looking at boats can be very relaxing, but of course it is much more fun to sail in them yourself! Check out the following options for a relaxing hour on the water.
On an open boat through the canals, for example. Luckily that's very possible in Amsterdam! The main advantage of such a boat trip must be the captain. A source of knowledge and beautiful anecdotes about the city. Wonderful to listen to while you sail through the Amsterdam waters. The captain often chooses to alternate the calibrated route with less discovered parts of Amsterdam, so you're sure you can write about a unique trip in your diary. You can also rent a private boat, did you know that? Again with the great addition of a skipper!
If you are ready for a more active outing, take a look at a pedal boat. You're able to fit up to four of you on a boat and you can paddle through the Amsterdam canals. Everything at your own pace, of course – because you have a day off and no one is rushing you today! Bring your own snacks and drinks on the pedal boat for the ultimate picnic on the water. Meanwhile, you float along all the sights of the city.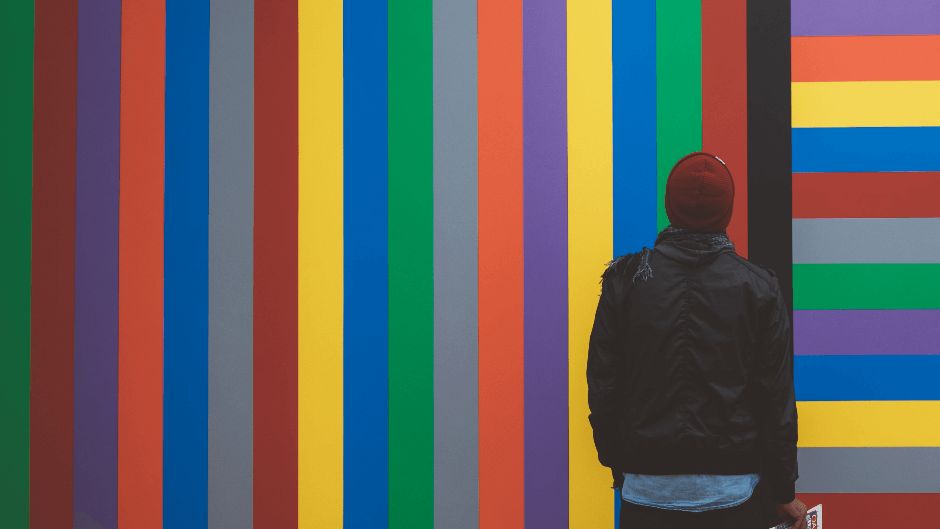 MOCO museum vs. Municipal Museum
Then we've now arrived at the cultural part of the day. As if strolling through the historic center of the city did not have enough cultural depth ;-) We have selected two colorful modern museums for you. Of course you can also indulge yourself at 't Rijks, but we were craving for some modern art. Let's go!
The MOCO museum is best known for their Banksy's. But you can also marvel at other contemporary art here. For example, they have work by Yayoi Kusama, Basquiat, Jeff Koons and many other great artists. One work of art is even more colorful than the other. Even on a rainy day (hello, the Netherlands!) you'll leave this museum very cheerful.
In need of a spacious museum after being stuck in a small home for a while? Then go to MOCO's neighbors: Stedelijk Museum. In addition to a beautiful permanent collection with masterpieces by Rietveld, Mondriaan and Roy Lichtenstein, you will also find the most beautiful temporary exhibitions. From Japanese posters to Dutch photographers and special light installations. If you're looking for a marvelous afternoon, the Stedelijk Museum is the place to be.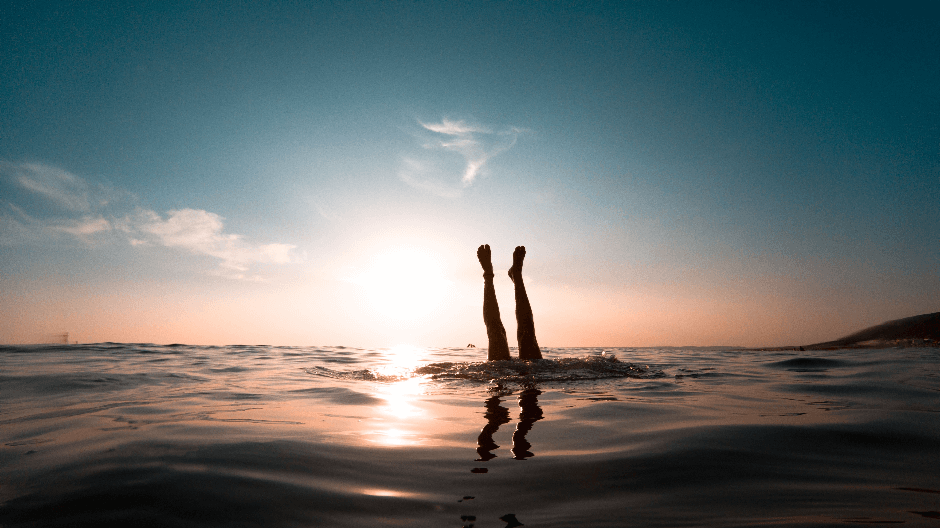 Vondelpark vs. Stenen Hoofd
You can now eat out and make reservations for restaurants, so support the catering industry, whoohoo! If you want to decide last minute how to spend a day in Amsterdam and you have not yet discussed a table: no problem! You can also order take-away at many restaurants and enjoy your meal somewhere else.
If you do not live in Amsterdam and cannot experience the comfort of your own living room during dinner, we have two more wonderful places to enjoy the evening sun.
The Vondelpark in Amsterdam South is the most famous park in the city. You can walk in from the PC Hooftstraat or the Leidseplein. Get your dinner somewhere on the Overtoom or the Van Baerlestraat and sit down at one of the lakes in the middle of the park.
After you've finished all your refreshments, just stretch your legs in the park itself. Have you spotted the statue that Amsterdam got from Picasso yet? We recommend you to walk on the smaller, greener paths for a wonderful outdoor feeling!
You can also choose to spend your evening on the water. One of our favorite places on the water is Stenen Hoofd (translated: Stone Head). It is about a 15-minute walk from Amsterdam Central Station, but you can get there much faster by bike. Stenen Hoofd was originally intended as a jetty for the ships of the Holland-America Line.
Nowadays you can recreate here - especially during summer. For example, you will find a coffee shop (where one could get some coffee, none of the green stuff is sold here) there and a film festival is also organized during the warm long days of summer. This spot is the ideal place to watch the sun set in the west, while giant ships and luxurious dinghies pass by. It's also possible to swim here, by the way! Score some good food in the Haarlemmerstraat and eat it at Stenen Hoofd.
Map with activities during your home holiday in Amsterdam
How are you going to spend your staycation with roommates or a small group of close friends?!