The city of Amsterdam might not be the largest city around, so the attractions and sights to see are really dense and there's just so much one can do in a few hours.
If you have a layover in Amsterdam or you only have 24 hours to spent in the capital of The Netherlands, it's nice to have some pointers on where to go. We figured it's nice to stay close to Amsterdam Central Station, that's why we made this guide of fun things to do in the Amsterdam Central Station area.
1. Take panorama pictures of Amsterdam
Amsterdam has a lot of vantage points to take beautiful pictures. Two of them are super close to Central Station.
A'DAM LOOKOUT
If you'd like to go to Amsterdam Noord - which is just a 5 minute ferry ride to the other side of 'the pond' away - you can visit the A'DAM LOOKOUT. It's an observatory with a panorama view over the entire city. A bonus to the LOOKOUT: the swings at a 100 meter high. Makes for a great picture on your social media!
SkyLounge by DoubleTree
But if you're more in the mood for a fancy drink – or two – with Amsterdam as your décor, you should definitely check out the DoubleTree's SkyLounge. This impressive cocktail bar treats you to one of the best views of Amsterdam. With the IJ river at one side and de city center at the other, you're guaranteed of a great overview shot of the city. Just imagine sitting there, sipping a fancy drink and taking a picture with Amsterdam in the background.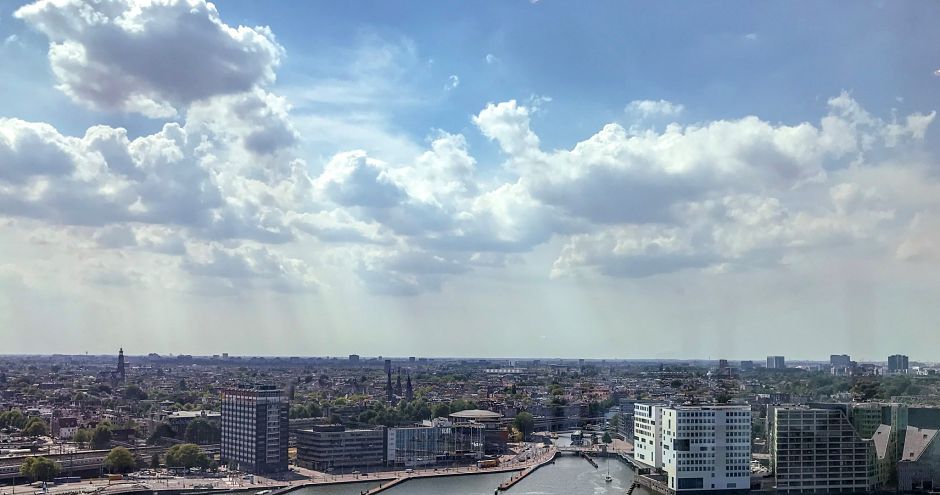 2. Experience Amsterdam from the water
We Dutchies are well known for the way we handle our water. Instead of fighting it, we love and embrace it. The best way to experience our love for the canals, for instance, must be by boat!
Canal cruise
One of the easiest ways to explore the city of Amsterdam is by canal cruise. There are a lot of canal cruise companies in the Central Station area.Why don't you try a Amsterdam Canal Cruise? This way you see all the beauty that Amsterdam has to offer in a little bit over an hour. Book your tickets in advance for a discount. During summer it might be nice to cruise through the canals in an open boat, too! The skipper is your guide, so you hear personal stories and fun anecdotes from the captain.
Ferry to Noord
If you're looking to go to Amsterdam Noord, take the ferry! It's completely free of charge and you can feel the breeze on the IJ river. If you want to go to the NDSM wharf, for the IJ-hallen thrift shop market or to chill out at Pllek, take the most left ferry. It will take you 20 minutes to arrive at Amsterdam Noord. Take the ferry on the right if you're looking to go to EYE filmmuseum, Tolhuistuin or the A'DAM LOOKOUT.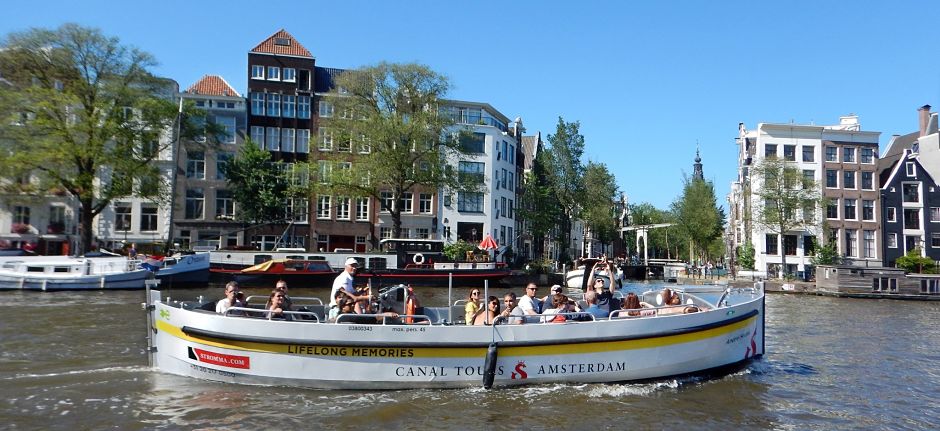 3. Have drinks and food at the waterside
Everyone needs to eat, so why not do it at the waterside of our capital. The canals are pretty close by Amsterdam Central Station, but it's hard to find a restaurant or bar that serves next to the canals. Have a look at these cool alternatives for drinks, dinner or brunch!
Hannekes Boom
This place is to be enjoyed throughout the entire year. During summer you can easily sit back and chill in the sun. Let your feet dangle into the water while you enjoy a nice and cool beer and let al the boats sail by. In the colder months this is a nice place to cozy up at, with their comfy couches you can sink into and their huge windows to look out over the water. They serve lunch, dinner and drinks and their menu changes every month.
Meneer Nieges
A relatively new hotspot is Meneer Nieges. It's a 15 minute walk from Amsterdam Central Station, but it's definitely worth it! You walk along the IJ river and can see al the big boats go by. Once you've arrived you find a very nicely designed chill spot. From taxidermy bears to inside swings and those cool rugs your grandma used to own and don't forget the view over the water. And that's just the inside of the place. The outside is a Walhalla too! Comfy couches, lounge chairs, tables with the perfect view. You can find it all at Meneer Nieges.
Tolhuistuin
Another option in Amsterdam Noord. You get here with the 5 minute ferry from Central Station. It's a relaxed spot to hang out at. The public is well blended. From students who are writing their thesis to people who work in the creative offices in the A'DAM tower; you'll find it all. The garden wall in the back of the joint is the perfect place to unwind, while during summer we'd choose to sit outside on their top terrace to have a great view at Amsterdam Central Station and the rest of the IJ river.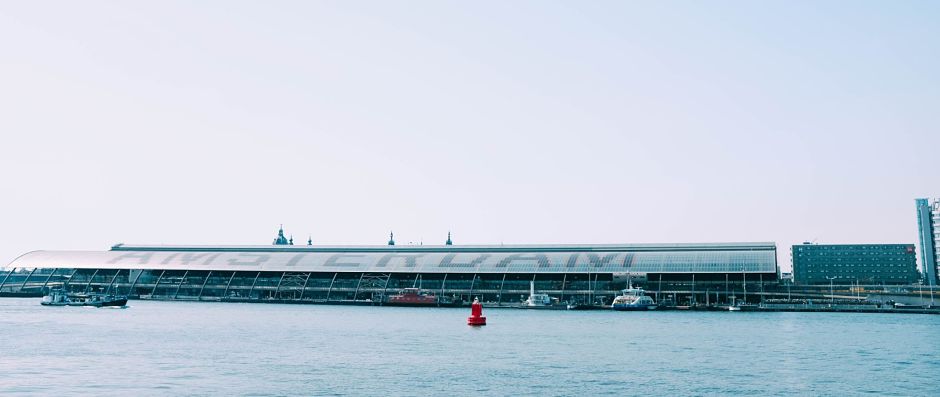 4. Take the perfect picture
Of course you want to take home some pictures of some typical Amsterdam sites. Because, hey, the city is super photogenic, so we don't blame you. We've already made a list of cool photo spots in Amsterdam and we're adding the next two, since these are really close to Amsterdam Central Station.
Brouwersgracht
The canal houses at the Brouwesgracht are a great display of classic Amsterdam architecture at its finest. Go to the corner of Prinsengracht and Brouwersgracht for your best shot at an epic picture! Especially during golden hour.
Central Station
So we've talked about everything you can do in the area of the Amsterdam Central Station, but let's not forget the station itself. The building is a real monument and designed by Pierre Cuypers in the 19th century. That's right! He also designed the Rijkmuseum! This building is as beautiful as it is impressive and from the square right in front of the station (at the city side, not the IJ side) you have the perfect view for a picture of this massive building. If you're lucky you can get some typical Dutch clouds in the picture too. It'll be hard to convince your friends it's not a painting from Breitner or Dommersen (Dutch painters from the 19th century).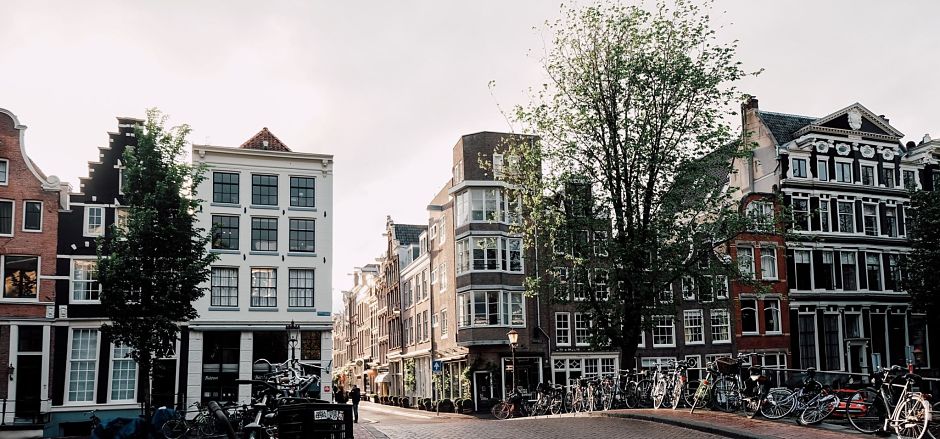 5. Go shopping
Amsterdam is great for shopping! Especially in the area surrounding Central Station you'll find some nice gems. From small boutiques to larger brands.
9 streets
If you're into thrift shopping, small stores, cute presents and a nice artisan collection, go to the 9 Streets in Amsterdam. They're in between the canals, so you can check those out as well! Not only will you find adorable stores and hip boutiques, you can also score real good coffee and lunch or diner in this shopping area.
Nieuwendijk and Kalverstraat
These are the main shopping streets of Amsterdam. You'll find the bigger brands on the Nieuwendijk and Kalverstraat. Think about Zara, H&M, JD Sports, Urban Outfitters, etc. These streets aren't the most cheerful streets in our city, but you can do some effective shopping. So if you're in need of some new kicks or a cool outfit, hit these streets.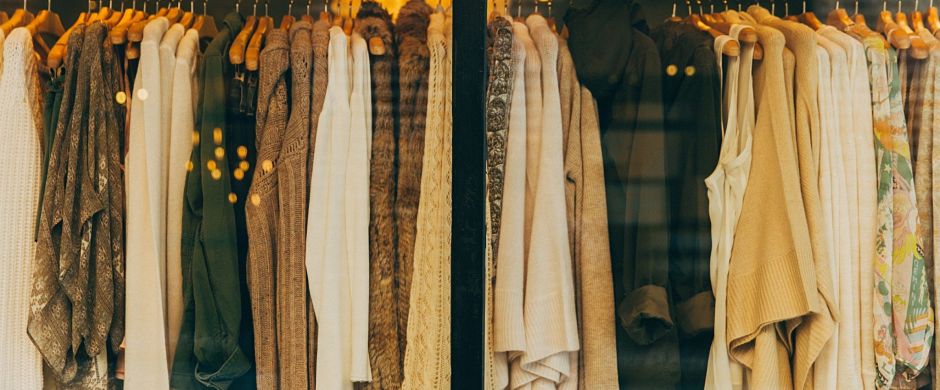 All these activities near Amsterdam Central Station can be reached on our Hop on - Hop off boat and bus, of course. Get of stop 1 with the Hop on - Hop off bus and at stop 4 or 5 (depends on your destination) with the boat.
Map of things to do near Central Station