During winter time in Amsterdam you're guaranteed of a healthy dose of low temperatures, snow and a whole lot of lovely moments with a blanket on the couch. Because, let's be honest: looking outside and seeing those gray skies once again, doesn't persuade you to go outside, right? We're about to change that!
Because after a while Netflix has no secrets for you anymore, the giant pile of to-read books vanished and the walls of your apartment are closing in on you. Well, wouldn't it be very convenient to have a list of fun activities in Amsterdam? That's why we, as the host of Amsterdam, made ready-to-go list for you to make sure you don't waste away during those cold, long winter days in our capital and get your butt off that sofa!
Looking for even more inspiration? Browse through our autumn activities.
1. Visit a local Amsterdam brewery
Micro brewing, aka brewing on a real small scale, is well integrated into the city of Amsterdam. A few years ago these breweries multiplied like crazy and we can count around 50 artisanal small breweries in the city of Amsterdam alone.
You could try to fight off the winter grogginess with a little sip of beer, but if you're looking for something that's educational as well, why won't you try a brewery tour? It's heart warming to experience the love for the beer brewing craft by all these passionate brewers.
At most breweries it's possible to have a bite of food – this might come in handy when you need a extra layer to conquer those hard winter times ;-) The burgers from Beef Chief, for example, are really worth taking the ferry to the Oedipus taproom for! Also at both the Westerpark and De Pijp locations of Troost they know how to serve good food!
Another spot that's really worth the visit is the tasting room of the Prael in the city center of Amsterdam. Besides a tour, a traditional Dutch winter meal, the cute little shop (which sells all kind of beers that were made in Amsterdam) and of course their own beer tasting, they organize a themed bingo with supercool prizes on a weekly bases.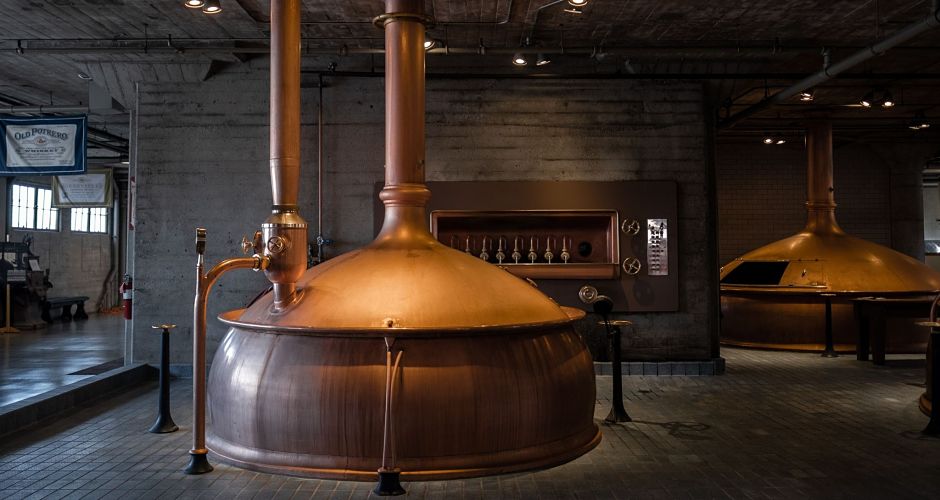 2. Indoor games
When you think of the cold winter months, you also think of cozying up to a fire place and play games to infinity, right? At least.. we do! Especially after the suggestions written above. But we promised you to get you out of the house. That's why we listed a few active games to play during winter in Amsterdam.
Glowgolf
Super retro: mini golf! But you won't leave your house for a regular session of mini golf. And we totally get it! That why we want to introduce you to indoor glowgolf where you complete a course of fifteen holes while finding yourself in a true retro black light space paradise!
Bowling in Amsterdam
Now that we've mentioned retro.. when's the last time you hit a bowling alley? Of course, bowling was never really out of style, but we bet it's been a while since you've put on those bi-colored shoes and scored strike after strike. All the more reason to pick up the favorite activity of the Big Lebowksi. You can throw those bowling balls around at Knijn in the south of Amsterdam.

Escape room in Amsterdam
So, we've been trying to pry you loose from your living room and now we're sending you to another place you need to break loose from? Yes, indeed! Amsterdam is very rich on escape rooms, so why don't you give this a try? You might want to go to the Zombie Escape on the border of the city center and the South of Amsterdam where you need to run from zombies and break out of a laboratory.
Did you know Boom Chicago also houses an escape room at their theater at Rozengracht? Since this building is a theater, you can expect an adventure of epic filmic proportions. One of the perks of this escape room is that the story begins at the moment you arrive at the bar and order your first drink to take of the edges a bit – before you even go into the room you need to escape from.
3. Indoor market in Amsterdam
De Hallen
If you want to shop for groceries at De Hallen in Amsteram West, we need to disappoint you (and refer you to the Ten Kate market, just outside De Hallen), but for cute boutiques with not your average Amsterdam goodies and fun gifts you're at the right place! From jeans to great interior finds. During most weekends you can wander around book and second hand clothing markets so the thriftshopper among us can really indulge at De Hallen. Another fun experience in this joint are the art expositions you can enjoy throughout the year.
De Hallen are designed to spent an entire day at. Before snugging up in De Filmhallen (the cinema at De Hallen) for a blockbuster of arthouse movie – or two! - you start off by shopping artsy gifst, look at the exhibition, so you can conclude your day out with a full meal or a few appetizers which you score at De Foodhallen.
IJ-hallen
Okay, this is indeed a more chilly option, but that shouldn't prevent you from stepping out. Do you have a deep slumbering obsession for (or just a mild interest in) vintage fashion, art or interior? Check out the monthly flea market at the IJ-hallen in Amsterdam North. It's the largest flea market of Europe so we're sure you're bound to find that one painting that ties your entire room together or the book that your mom won't stop talking about.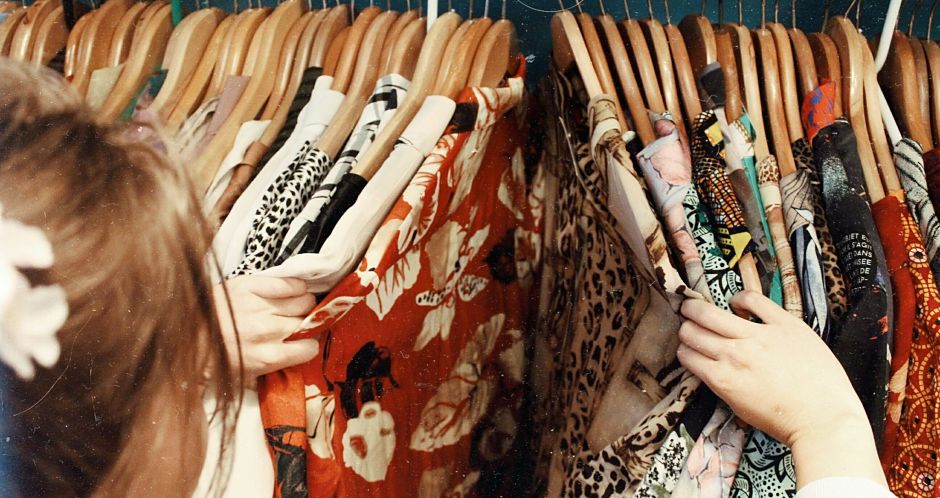 4. Warm bar in Amsterdam
When we're talking about bars and cafés a lot of people think about Friday night drinks and birthday parties, but you don't need to order an alcoholic treat. These days a lot of bars want to create that home-y feeling of your own living room, so the homebodies among us will enjoy this tip! Just go to one of the many bars or cafés in Amsterdam and make a day out of it. Play a board game, read the newspaper, order tasty food, cheer on your favorite soccer team and talk to the people around you – or don't - it's all up to you!
Are you done with the vibe of one bar? Just hop over to the next one to fill up your day with fun scenes and new impressions.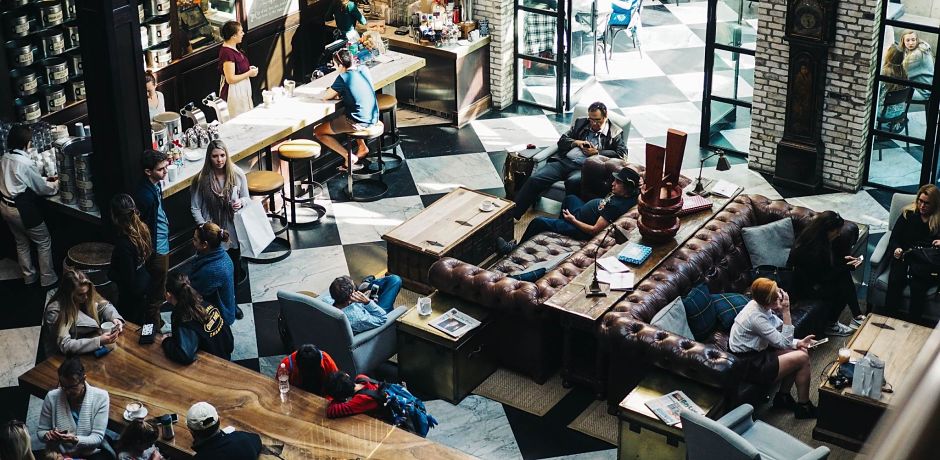 5. Ice skating in Amsterdam
Aah, a good old classic sporty activity: ice skating in Amsterdam. Even if it rains, skating is a sweet activity during the winter. Especially because at the Jaap Eden ice skating rink you can do it inside! During the week you can spin some pirouettes or ride in circles, while at the weekends you can flaunt your disco moves on the ice at the disco skating events in the evening.
Were you aware of Amsterdam own ice skating team, Amstel Tigers? You can enjoy their home games at the Jaap Eden ice rink too! For €10,- you experience an eventful game of ice hockey. Don't forget to bring your gloves and a scarf, because you'll need more than a cup of cacao to keep you warm.
6. Canal cruise Amsterdam
Discovering the city of Amsterdam and staying warm and dry might not be a combination you expect during the winter in Amsterdam. But don't be discouraged, there are options! Book a nice cruise through the city and see at least a hundred attractions during the Amsterdam Canal Cruise. This way you discover the city from a heated boat and get inside information of the city of Amsterdam.
Or, if you want to do a selection of activities in the city (like everything mentioned in this article ;-)), take the Hop on – Hop off boat or bus and use it as your personal transportation through Amsterdam. In the city center you can find a lot of museums where the bus or boat will drop you off very easily. The Hermitage at Waterlooplein, for example. And don't forget the huge variety of museums at Museumsquare!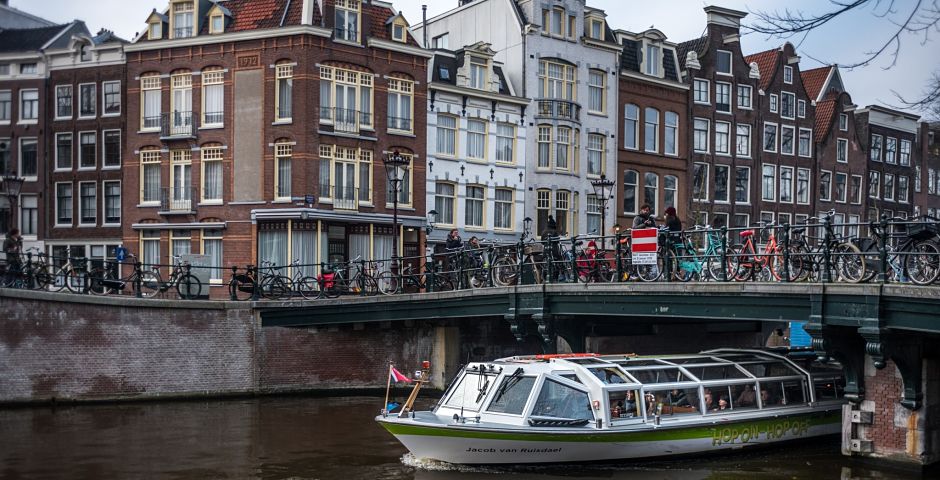 7. Cinema
Another timeless classic, the cinema in Amsterdam. You could, of course, hunker down at your own sofa with a Netflix show or a movie, but you why don't you add a bit more schwung to your day by watching a movie outside your house? We promise you our next recommendations are worth getting dressed for.
You could choose one of the larger Pathé cinemas in the city center of Amsterdam (there's also a humongous Pathé cinema near the Bijlmer train station). If you do so, Tuschinski – with her artfully painted ceilings and atmospheric retro looks – is our favorite pick.
But Amsterdam has way more to offer, cinema wise. Like Filmtheater de Uitkijk, the oldest film house of Amsterdam, situated at Prinsengracht. An adorable little building with only one cinema where you can watch both popular movies and the lesser known ones. Or check out the EYE film museum in Amsterdam North where you can visit the museum for information about movies and cinematics as well as watching a movie at the cinema itself. The building is a architectonial masterpiece, so it's definitely worth to witness.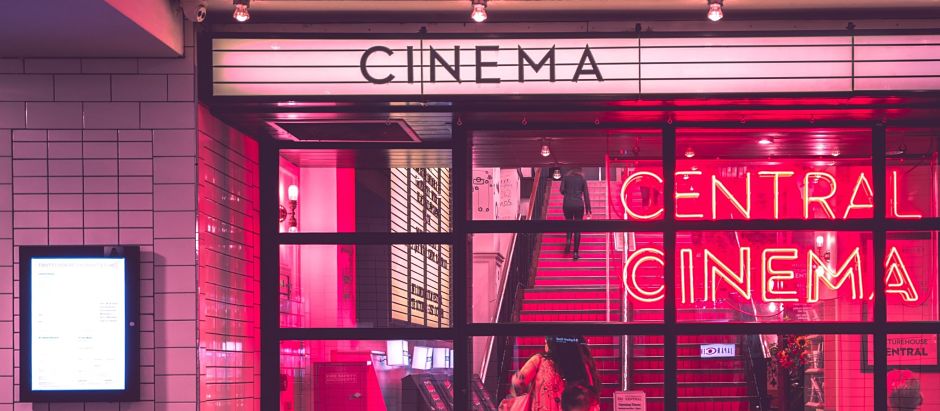 So, how are you spending your precious time during winter in Amsterdam?