Amsterdam South is super versatile. From a daily market and parks to posh houses and amazing sights to see. We've scribbled down some of our favorite neighborhoods, parks, photo spots, places to shop and restaurants. Check 'em out!
A lot of the Amsterdam highlights can be discovered by Stromma sightseeing tours.
Sightseeing
You came to Amsterdam do to some sightseeing, right? There's a lot to be seen throughout the southern part of Amsterdam. We've highlighted a few cultural spots, as well as great photospots.
Museumplein
Let's start with an obvious one: Museum Square with al its culture and history. At this square you're able to find the most museums per square meters. Check out Rijksmuseum, Van Gogh Museum, Stedelijk Museum or MOCO. Or be enchanted by a classical concert at the Royal Concert Hall, for instance.
The green field between the museums is a perfect hang out spot, by the way. Get yourself something to eat and drink in the supermarket underneath the square and start a little picnic between the blossoming trees.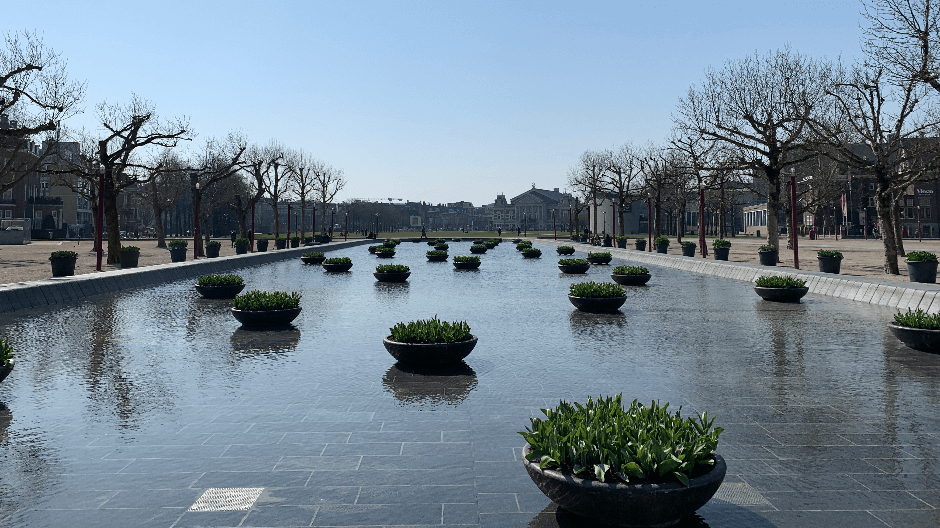 De Pijp
This part of Amsterdam South is very popular because of the bar and restuarant density. There are bars, coffee places, restaurants or tokos everywhere you look, so there's always something you fancy. Check out the cool street art in de Pijp as well!
There's also a small but tranquil park in de Pijp, called Sarphatipark. Take a walk across the park with all its statues, lakes with ducks and even a small cascade!
Wake me up when I'm famous bench
This bench starts to gain more and more popularity. And we totally get it. It's the perfect backdrop for a funny picture or a great statement when you're a social influencer. Read more about the popular bench in a previous blogpost of ours.
Address: Frans Halsstraat 64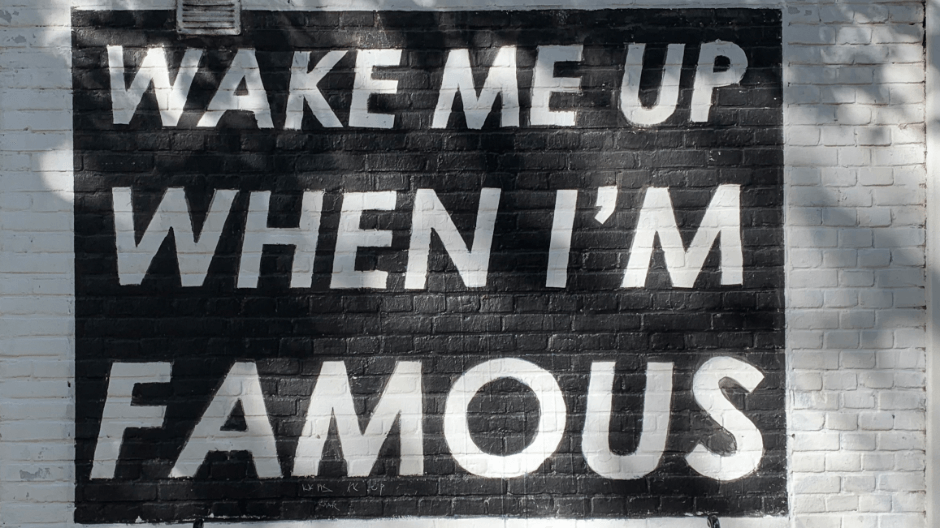 Anne Frank statue – Rivierenbuurt
You probably all know the story about the Jewish girl Anne Frank who went into hiding during the Second World War. The building that's now the Anne Frank House was her hiding spot until someone betrayed her family and she was deported.
She used to live in Amsterdam South, in the Rivierenbuurt to be exact. To honor her they've put up a statue of the little girl at her old street, Merwedeplein. You can take a virtual tour through her old house – and of course visit the statue.
Address: Merwedeplein (statue), Merwedeplein 37 (old house)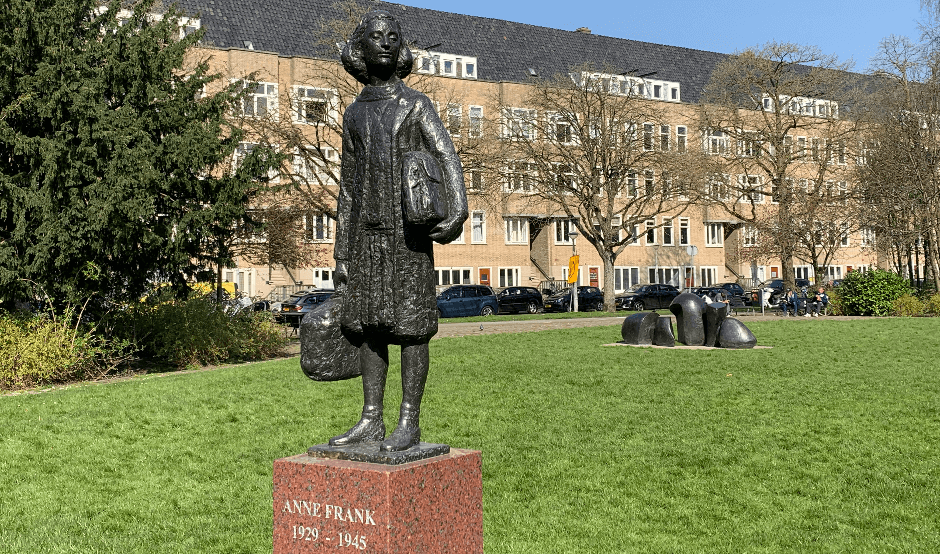 Shopping
You can sure spend some money in the South of Amsterdam – which is know for its posh houses and shops. Have a look at our selection below.
PC Hooftstraat
For an extravagant shopping experience, you should really hit PC Hooftstraat. This is the street where you can find all the big designer brands. From Gucci and Prada to The Kooples and Chanel.
Rijnstraat
Once you're in the Rivierenbuurt, you have to check out the Rijnstraat. It starts to develop itself to a true hotspot with a wide variety of shops and restaurants. From the butcher and Turkish grocery store to a cool snowboard store (Old Man's) with its own terrace, coffee machine and bbq, a really great traditional Chinese hotpot restaurant and tons more!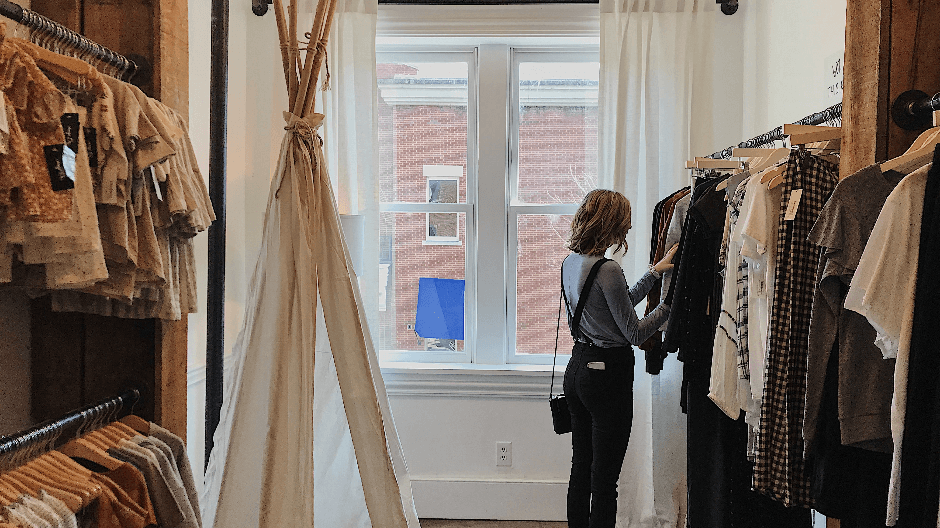 ZuiderMRKT
At this market you won't find the clothing and beauty supplies stands like on the Albert Cuyp Market in de Pijp. At the ZuiderMRKT you can only buy quality food. From artisinal sausages to proper bread and everything in between. You're only able to visit this market on a Saturday, but it's really worth the wait!
Check out the rest of this area for some of the most beautiful mansions and classic cars. This neighborhood is known for its luxurious looks. A great spot for a photoshoot with those typical Amsterdam houses in the background.
Address: Jacob Obrechtstraat, Johannes Verhulststraat
Parks
The perfect spot to unwind in a hustling and bustling city. A few of our favorites are:
Vondelpark
From the abovementioned neighborhood it's just a five-minute walk to the famous Vondelpark with all its glory. There are always some food stands close by and you can also bring your own goods for a small picnic (barbecuing is not allowed, tho!). During wintertime the lakes freeze over and you can do some real iceskating, isn't that fun?
There are a few restaurants and bars in the park: Het Blauwe Theehuis (translated: The Blue Tea House), VondelCS and Vondeltuin, for instance. They all have great terraces where you can check out all the passerby and work at your tan at the same time!
Did you know there's a real Picasso statue to be found in the Vondelpark?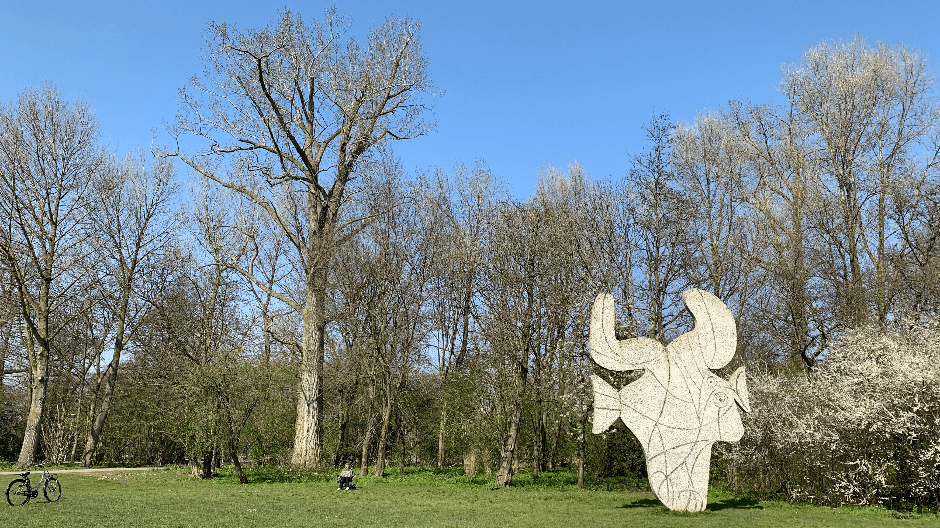 Sarphatipark
Like we mentioned before, this is a small park in De Pijp area. Treat yoself to some snacks from the Albert Cuyp market and walk into the park for a cute little picnic. There's a small community garden and a huge statue in the middle. A great meeting point for when you're meeting with friends. No worries about restrooms, they're available in the park itself.
Amstelpark
The Amstelpark is very versatile. You can play mini-golf, there's a small train running for the smallest of kids, once a month there's a big bio market and you can find a real windmill. It's close to the RAI train station, so Amstelpark can be easily reached by public transport.
Wining and dining
Whether you want to go all out or go for a quick bite, we got you covered. Check out these bars and restaurants in De Pijp for an animal themed night, or read some options below.
Rons gastrobar
The owner is masterchef Ron Blaauw and he wanted to start a gastronomical experience that's more affordable than your usual fine dining restaurant. He won several prices for his cooking skills in his previous restaurants and the Gastrobars are also very well rated. There are a few gastrobars in Amsterdam, each with their own theme. Asian, French cuisine, etc.
Yuan's Hot Pot
It might not be the first thing that comes to mind, but Chinese hot pot is realy great and so easy to get when you're in the Rijnstraat in the South of Amsterdam. It works like fondue: you choose your veggies and meat and you cook it in tasty Chinese broth. Each tabel has their own pot, so just dip in and eat away.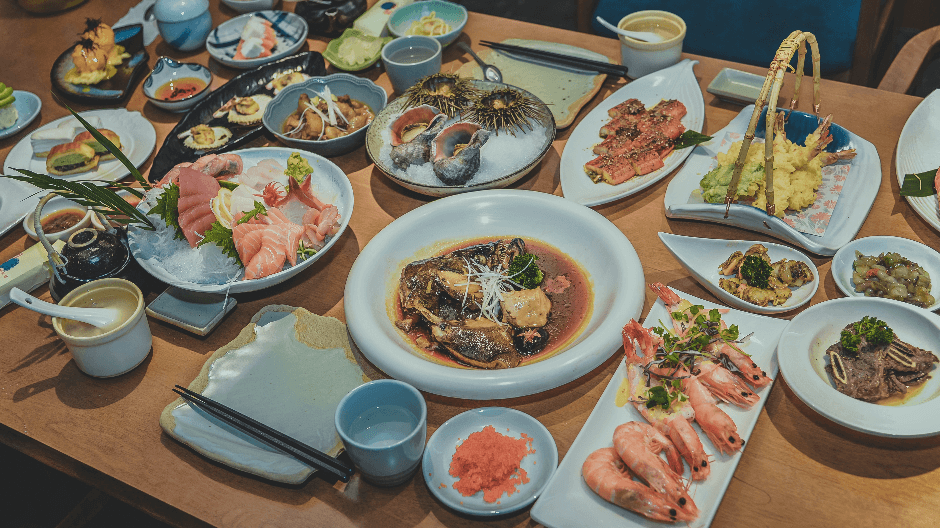 Hakata Senpachi
At Hakata Senpachi you will experience traditional Japanese food. They've specialized in yakitori (which is basically anything on a stick) but sometimes serve noodle soups as well. Don't forget to order one of their delicious Japanese cocktails. You'll find this restaurant at the very end of Amsterdam South, but it's worth the trip!
Chocolate Bar
Aaah, De Pijp. We love this area of the Southern part of Amsterdam. It's lively and very vibrant, with lots of bars, restaurants and other great entertainment. Chocolate Bar is one of those joints where you can go for easy bar food and great drinks. Sit outside on the heated terrace or have a look inside - we reccommend walking all the way to the back for a cozy nook.
Map of activities in Amsterdam South