You have a day in Amsterdam planned but the Dutch moderate maritime climate throws a spanner in the works. At least, that's what you think - before you read this blog post about all the fun things you can do in Amsterdam when it rains (or in winter). Throw your rain boots back in the closet, because we've got some fun options for you:
Cinema on a rainy day
A rainy day requires an indoor activity. The cinema is a wonderful place to hide from the weather. It may sound cliché; the cinema, but come on, guys: it's dark, so you don't notice the outside world and you can lose yourself in the latest action movie or dream away at a romantic arthouse flick. We have selected two gems that are very special in their own way and offer more than just a film.
1. De FilmHallen
De Hallen in Amsterdam West were completely renovated a few years ago. It was once an old tram depot, but has now been transformed into a multifunctional hotspot. You can go here to the library, eat delicious food at the FoodHallen and, for example, look for cute gifts in the boutiques before you dive into the FilmHallen for a blockbuster or theme film.
2. Tuschinksi
There's a reason this cinema is used for many premieres. The building is really impressive from the outside with its golden lettering and steps to the front door, but you'll also be amazed by the interior. Tuschinski is a real art deco palace. Take a look at the carpet in the main hall and the ceilings and balconies in room 1. Beautiful! (Oh, by the way, this movie theater has love seats if you want to stare into your date's eyes and forget all about the rain!)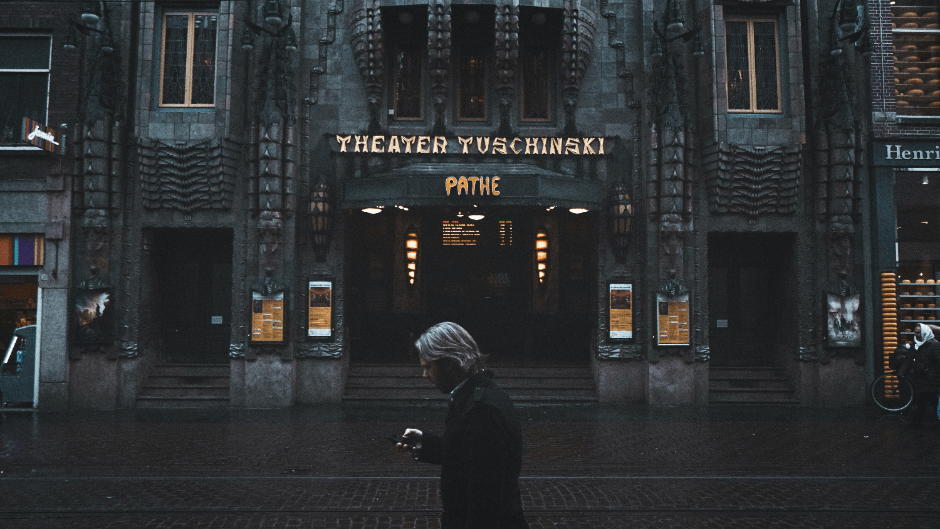 Museum when it rains in Amsterdam
On a day it rains cats and dogs, you can't be too picky about what museum you'd like to visit. It all depends on your interests where you end up on such a wet day, but in Amsterdam there's a lot to choose from. Modern art, historical museums, photography, Masons, cats. Think of a subject and there is probably is a museum about it. We happen to mention these two now, but take a look at our list of special museums in Amsterdam for more inspiration.
3. FOAM
This is the photo museum of Amsterdam. Large international photographers are really happy to be exhibited at FOAM, but Dutch photographers with a tremendous track record (Anton Corbijn, for example) regularly hang here with special images, as well. From war photography to fashion images and everything in between.
4. Rijksmuseum
This is a true classic. With 12,000 m2 of exhibition space, you can shelter from the stormy weather for at least a week if you have to. The Rijksmuseum is full of Dutch masters from the 17th century. The Dutch art trade flourished during the Golden Age and we can still enjoy it in this museum. But also beautiful Italian art and subjects like the Dutch colonial past are not avoided. There's something to appreciate for everyone. Have you ever taken a good look at the Rijksmuseum building itself, for instance? That Pierre Cuypers (the architect) knew what he was doing, right?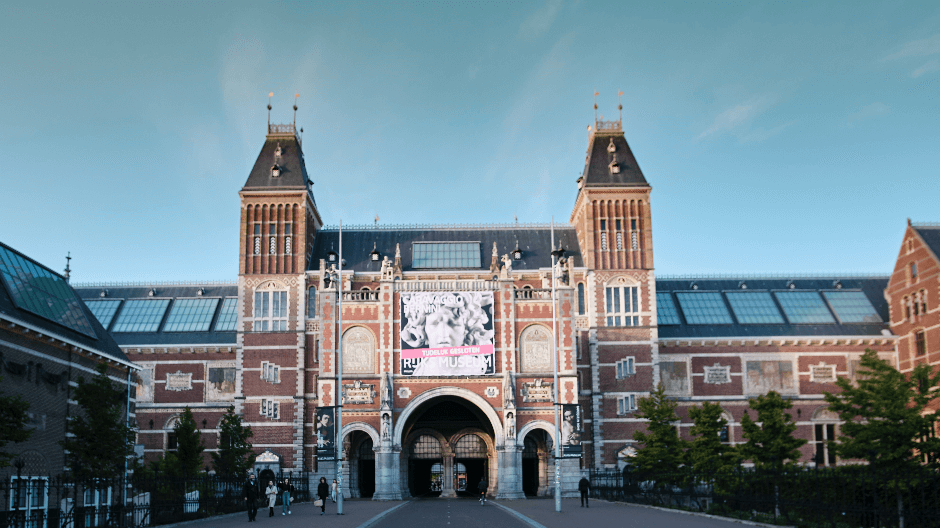 Canal cruise in Amsterdam
Of course you had your best walking shoes pulled out (yes, those hip sneakers will do too) to explore Amsterdam from front to back. But hmm, do you want to expose your white sneakers to the puddles? We know we don't. An ideal solution for your sightseeing tour: a cruise! Read about all Stromma canal cruises and book your ticket.
5. Amsterdam Canal Cruise
On this cruise you'll experience the city in just over an hour - so a lot of highlights in a short time. The route of the Amsterdam Canal Cruise is slightly different each time, but we'll make sure that you always see the important sights. Ver convenient: you can now board at three locations; 1) at the Damrak, 2) opposite the Central Station and 3) opposite the Rijksmuseum. So combine it with a museum visit for the ultimate experience.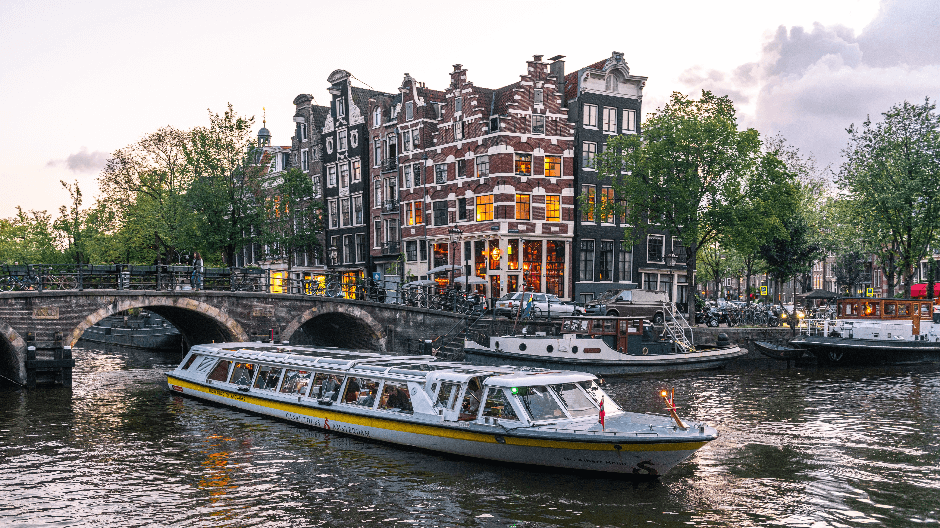 Experience the city on a wet day
Speaking of experiences: Amsterdam has a large number of fun experiences. For example, you can go to This Is Holland for a flight experience. Or to the two attractions below. Read along!
6. Heineken Experience
The Netherlands' largest and best-known beer brand has its own experience on the Stadhouderskade. Walk through the museum and learn how they brewed beer in the past and how they still do this today. At the end of the tour you're treated to the taste of a real Heineken beer. Score! Read more about Heineken Experience and book your ticket today!
7. Wondr
The photo experiences pop up like mushrooms. And that is good, because nobody enjoys posing at a wet bench from a sad film is on a drizzly day. That's why you need to take a look at the Wondr Experience in Amsterdam North. The photo decors are refreshed from time to time, so you can go there more than once for a fun and colorful snapshot! From pastel colored ball boxes to rooms full of disco balls, you will always find a nice corner for a photo!

Bouldering is the solution on a rainy day
A fun activity during a wet day: climbing! This way you are active and you know for sure to use muscles that you have neglected for years. And your muscle pain will remind you of your nice outing two days later ;-)
8. Klimmuur Central
Joking aside, bouldering is just a lot of fun. We like to go to Climbing Wall Central, a stone's throw from Amsterdam Central Station. Do not forget to make a reservation or, for example, to book a beginners class.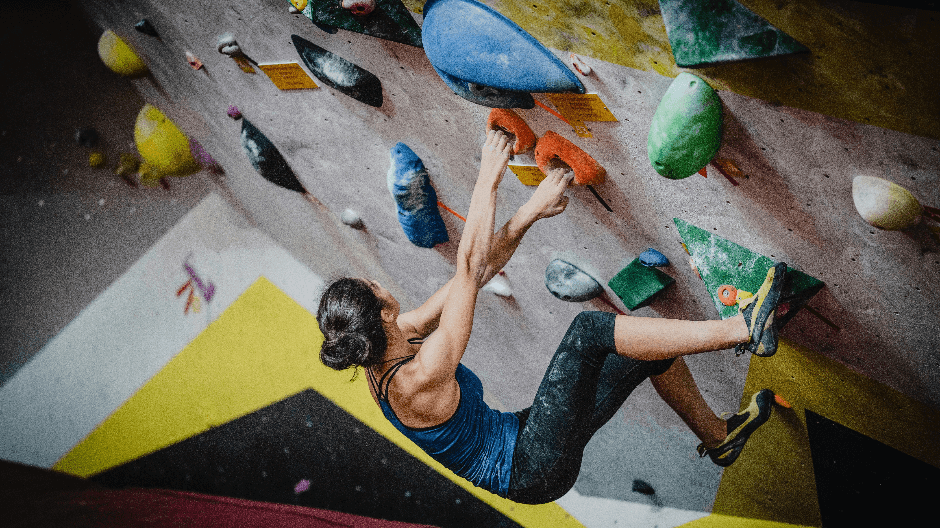 Trampoline jumping
We will continue with the physical outings. Jumping trampoline, for example. You can work up a sweat with this activity. It seems very easy to get around and hop on a trampoline, but don't underestimate the physical exertion that comes with it.
9. Bounz
We're a fan of the trampoline hall in Amsterdam New West. It's spacious and there are friendly instructors walking around. Very important if you are planning on being acrobatic! Also pay attention to the skills of the supervisors. Can you make a flip or roll like that?!
Visit a brewery when it rains in Amsterdam
Amsterdam has many microbreweries, so you can go to a lot of addresses when trying out this tip. Many of those breweries also have their own tasting room, go there to support the local beer scene and to have a splendid afternoon! We mention two tasting rooms here, but there are more breweries with their own bar.
10. De Prael
The tasting room of this brewery is located in the old city center of Amsterdam and to be specific in the red light district. Although it is a large tasting room, the cafe always feels snug and cozy. You will be helped super friendly by people who are disadvantaged in the labor market due to, for example, a disability. Don't forget you can also go to De Prael for a tasty dinner or an evening of bingo.
11. De Eeuwige Jeugd
This brewery has opened its tasting room in Amsterdam East. Opposite the Tropenmuseum you can enjoy beers such as the Nitwit and Lellebel in a super hip interior. Order a delicious snack to complete your afternoon. Here too, hilarious and special theme nights are regularly organized, so you can enjoy yourself to your heart's content.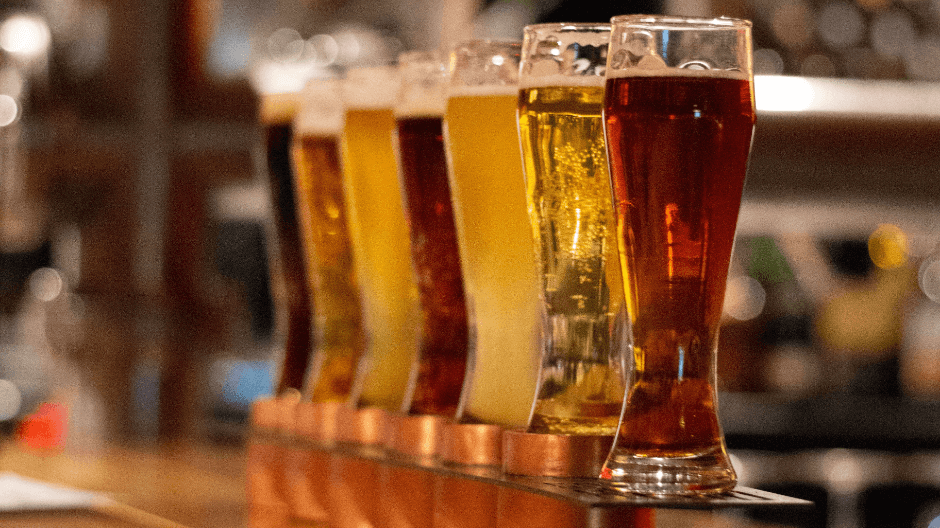 Games cafe
Do you always get such nostalgic feels from the rain? We do! And when we think back to rainy weekends from the past, our minds start to wander and we end up at boardgames. Find a games cafe for the ultimate old-school fun. We have collected a number of types of games for you, but there are many more cafes where you can play a game of cards or goose game until you drop.
12. Checkpoint Charlie
At Checkpoint Charlie in Amsterdam West you can sit on the benches outside on a sunny day, but you should also be here on rainy days. The extensive games cabinet with classic board games is waiting for you. When is the last time you have played Monopoly?
13. Mooie Boules
Here you can play… jeu de boule! Another classic. With a super tasty snack and a fresh drink you beat everyone on the petanque field. Did you ever think it would become hip again? We neither. But never does it feel old and stuffy. A perfect way to spend a rainy day, so.
14. The Poolhole
Are you in the center of the city and do you want to play a nice game of pool? Then go to The Poolhole behind Spui. Nice music, many tables and whistles of beer or soft drinks. This is a genuine and classic pearl of Amsterdam when it comes to pool. Take your date with this or have fun with friends all afternoon during a small tournament!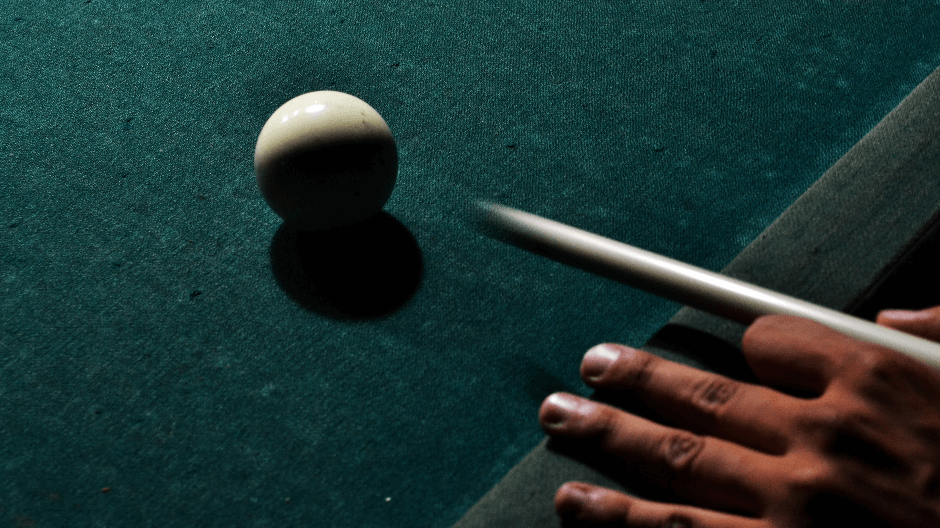 Map with indoor activities when it rains in Amsterdam