Since the I Amsterdam sign has been removed from Museumplein, the city has lost a characteristic photo spot. But there's no need to be bummed out! The set of letters is going to be situated at multiple locations throughout the city in the few upcoming years. And did you know the I Amsterdam landmarks can be found at more sites? We've listed them for you!
Schiphol Airport
Make sure you travel in style, because you can take your selfie at Schiphol Airport. Upload it straight to the 'gram so you can show everyone you arrived in our beautiful country.
Sloterplas
In the West of Amsterdam, just outside the ring, you'll find the Sloterplas: a lake surrounded by a chill leisure area. You can find lots of sports activities on the banks of the Sloterplas. That's probably why the I Amsterdam sign is altered into a parkour track and some of the letters lie flat on the ground. This makes it quite difficult to take the perfect snapshot, but hey, you can work on your physique and that's definitely worth something, right?
Traveling set of letters
The sign that's removed from Museumplein is going to travel the city. The plan is to position the landmark near festivals and other events - to make your Amsterdam experience even more memorable.
Keep this page in mind when you're looking for the most recent information about the whereabouts of the I Amsterdam selfie spot.
Alternatives for the I Amsterdam sign
Amsterdam has way more characteristic photo spots. How about the Skinny Bridge or the impressive canal houses at Prinsengracht? Check out our favorite Amsterdam photospots and alternatives for the I Amsterdam letters.
Or book a ticket for our Amsterdam Canal Cruise or the Hop On - Hop Off combination of bus and boat. This way you're able to cruise and drive past all the beautiful sights of Amsterdam and snap some classic shots.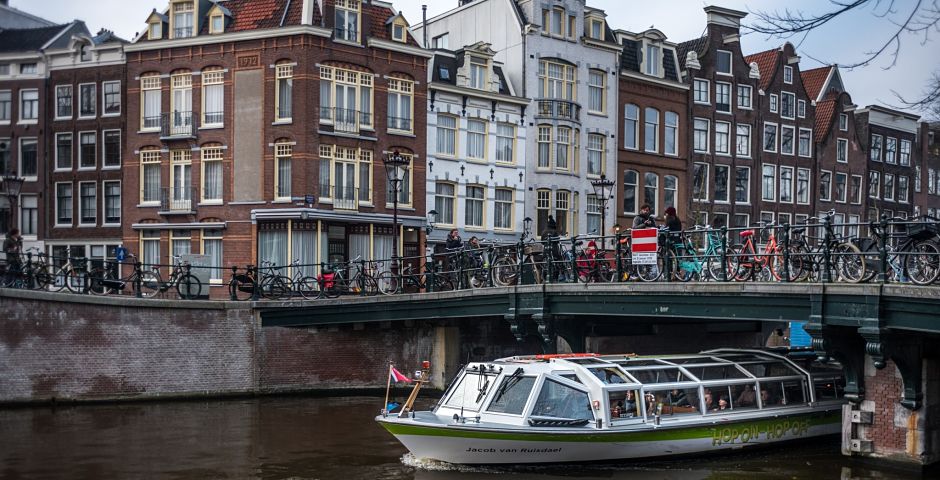 Map for the I Amsterdam sign
We're keeping this map fully updated so you'll always know where to find the well known sign! Once the travelling letters appear in the city again, we'll add them to the map. Click on the map to open in your browser or app and easily navigate!