Graffiti can be found at all points of the compass when in Amsterdam. From commissioned work on large buildings to more guerrilla style pieces in alley ways, we've got you covered.
A lot of these pieces can be reached by the combination of our Hop On Hop Off bus and boat.
Graffiti in Amsterdam
Amsterdam is known for its rich 17th century history and architecture, but in the 70s of the 20th century a new art form arose in the city. Street art and graffiti. The bold colored art pieces are a huge contrast with the historical canal houses. Street art comes in many forms. From commissioned work to honor our mayor, to mosaic pixel art and walls full of tags and other guerrilla pieces.
Don't forget the Wake Me Up When I'm Famous photo wall in De Pijp and other spectacular photospots throughout the city if you're looking for picturesque spots in town.
Space Invaders Amsterdam
We all know Space Invaders from the computer game, but it's also used as art to spruce up the city. These mosaic works can be found scattered all over town. And not just in Amsterdam, it's internationally spread. Can you find them all?
LOVE ME graffiti Amsterdam
Street artist Curtis Kulig spent some time in Amsterdam and he left us some tags to remember him by. Have you seen his LOVE ME letters at the back of the flower market in the city center? And there's another LOVE ME piece in town. It's right behind the university buildings at the Grimburg wall. It's not in the style of Curtis Kuligs work, but it might be his.
Bajes Amsterdam
Bajes is Amsterdam slang for jail. This bar and restaurant at Leidseplein has nothing to do with being incarcerated or inmates, but it does have a bit of a raw vibe. They've invited internationally known artists like London Police and Dface to spice up the joint and spray paint every wall in the building.
London Police (Oost, Centrum, West)
London Police has multiple pieces throughout the entire city of Amsterdam. We've spotted them in Amsterdam East, the city center and at the front of a bar in Amsterdam West.
NDSM graffiti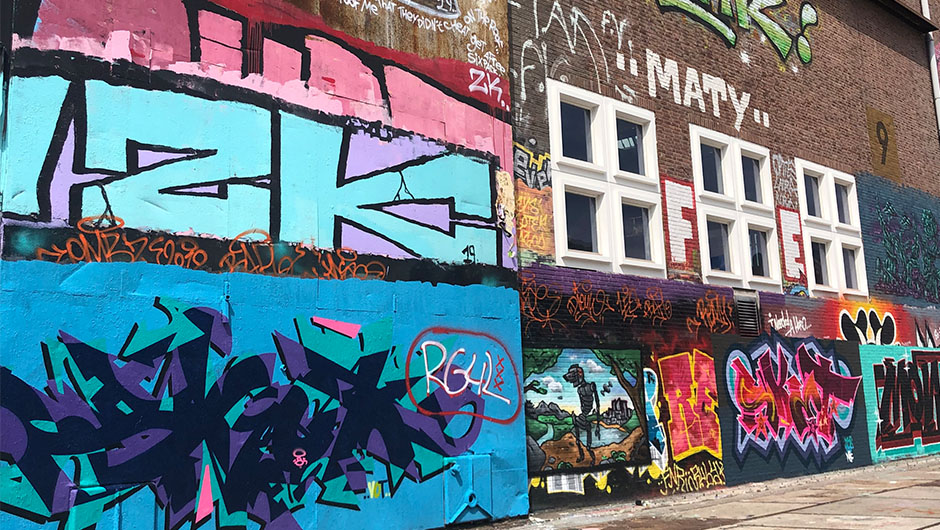 This area is the seen as the artistic street art area of Amsterdam. Multiple artist have their studio in this part of town and it really reflects on what this side of the city looks like. The giant warehouses are the perfect canvasses for colorful pieces of art by great street art legends like Eduardo Kobra.
Schellingwouderbrug
The stories go that underneath this bridge in the eastside of town, the first street art pieces were drawn. It's still a place where you can find a lot of pieces and tags. If you're a Amsterdam residential, go check it out every month or so to see how the wall keeps being updated.
Street Art Museum Amsterdam
A group of street art enthusiasts in Amsterdam West decided it was time for a true street art tour through Amsterdam West. They think of Amsterdam as a giant open-air museum with pieces that need to be shown to a bigger crowd than just the people that live in the buildings that are painted upon. A tour takes about and hour and a has to be booked in advance.
Eberhard van der Laan at Mercatorplein
Our the late mayor turned into a true icon of the city of Amsterdam when Kamp Seedorf tried to buck up the, then still alive but sick, Eberhard van der Laan with his image on a subway stop and our local stadium. When the city wrote out a contest for a piece of art at Mercatorplein, the boys didn't have to think twice. They won the contest and the piece is immortalized at the square in Amsterdam West. The guys from Kamp Seedorf also paint a lot of guerilla pieces of soccer players and other Amsterdam icons throughout town.
Decorated rolling shutters in De Pijp
At the market area of de Pijp there are a lot of blinds. These boring grey rolling shutters were really inviting to be vandalized so the neighborhood came up with a plan: let's decorate all the blinds with typical Amsterdam art pieces and scenes. There's even a Facebook-group for this phenomenon and more and more artworks keep popping up in the area.