Join us and help us to scoop the trash out of the canals!

World Cleanup Day is an annual initiative where events are organized all over the globe to clean up nature, cities, waters or other places. As long as trash is picked up. In cooperation with River Cleanup Stromma Netherlands participate in the World Cleanup Day.
We will provide our Pedal Boats, Open Boats for free for this event and River Cleanup will provide the equipment. Of course we also scoop ourselves.
When? Saturday September 18, 2021
Join us on a Pedal Boat or Open Boat and help us clean the Amsterdam canals during World Cleanup Day 2021 on September 18. So come join us for free on our Pedal Boats or join us on an Open Boat and help scoop the trash out of the water. Coming to help? Sign up at cleanup@stromma.nl. The event will take place from 10:00 AM till 12:00 PM.

Read more about River Cleanup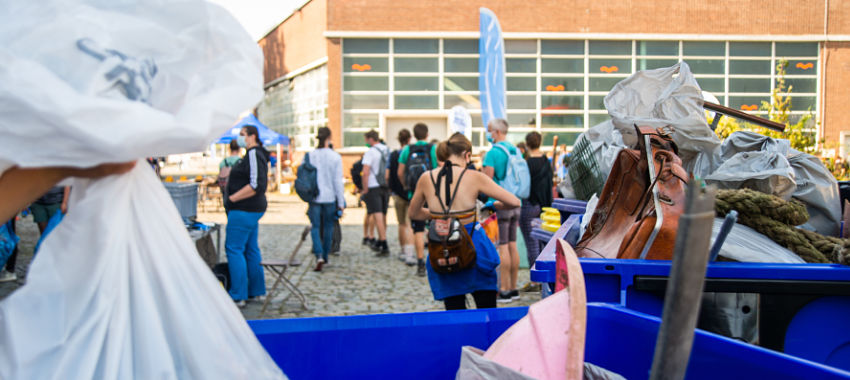 Plastics in Amsterdam canals
Every year, 42,000 kg of plastic is fished out of the canals in Amsterdam. An unprecedentedly large number that is only a fraction of the total plastic that ends up in the canals each year, according to Waternet (Water company for Amsterdam).The waste that is not removed from the water flows via the IJ into the North Sea. Keeping the canals clean is hardly possible at the moment, which is why we want to take our responsibility. After all, it is our field of activity and we want to keep it that way.
Plastic soop occurs in places all over the world and mainly indicates the existence of plastic in the oceans and seas. Not only on these vast waters do we suffer from pollution but also in inland waters, rivers and even in the canals of Amsterdam and Utrecht. Take a bowl of soup from the canals and chances are it contains plastic or other waste. That plastic is a danger to the habitat of animals in the water. A problem we would like to help with.
That is why Stromma have joined the River Cleanup, an organization that has much more experience with this issue. We will not only cooperate with the River Cleanup during Wold Cleanup Day, because it will not be a one-time event. We would like to structurally contribute to cleaner canals. Canals that we as Stromma Netherlands depend on so much, which is why we want to use them sparingly. More about this and our ultimate dream further down.


What do we do after September 18?
Participating in World Cleanup Day is one thing, but after September 18, plastic will still end up in the canals. Keeping Amsterdam's canals clean is not a sprint but a marathon. It requires a more structural solution with a structural approach. Stromma Nederland would like to contribute by making scoop nets available at all the locations where we rent out Pedal Boats. A donation is appreciated but not mandatory. The donations will go entirely to the River Cleanup.
Guests can then combine the useful with the pleasant while paddling. While chatting, they burn calories, enjoy the view, while occasionally fishing plastic and other debris from the water. The garbage is taken to the jetty where we will collect it for our ultimate dream: a pedal boat made of plastic.