Fun & scary tips for children & teens
Here you can read about our best (and spookiest) tips of activities in Stockholm during Halloween. Learn how to carve your own pumpkin lantern - step by step. The tradition surrounding Halloween originates from Ireland and has become a popular celebration worldwide, especially in the United States. Halloween is also celebrated in Sweden, but is not the same thing as the old Swedish holiday of "Allhelgona", though they both occur around the same time and are both related to death. Children dress up in scary costumes and gardens are decorated with pumpkins and spider's web. Do you like spooky things? Don't miss our top tips of things to do in Stockholm during Halloween!
Theatrical ghost and ghouls at Drottningholm Palace Theatre
The fearless guide will show you around the supposedly haunted Drottningholm Palace Theatre and tell stories of occult experiments, fortune tellers and terrifying stage effects. If you are brave enough you can visit the theatre and watch a stage performance with theatrical ghost and restless ghouls from the 1700's.
Recommended age: Adapted showing for children aged 4-6 and 7-12
Price: 100 SEK (accompanying adult 150 SEK)
Available dates: 25-31/10 – booking required
Haunted Forest – Halloween Scare Walk at Bogesund
Do you dare visit the dark and haunted Montebelloforest at Bogesund outside Vaxholm. Haunted Forest is a scare walk and a spooky experience you won't forget any time soon! You head off into the forest in smaller groups and with only a flashlight to guide you along the winding paths. The forest is said to be cursed and haunted by witches and other mysterious beings – do you dare take the risk and enter the forest?
Recommended age: 8-14 years
Price: 145 SEK
Available dates: 31/10 and 1/11 – booking required
Take a break from the scares – relax with a boat trip
Take a break from all the scares and enjoy a relaxing cruise through the capital with popular sightseeing tour Under the Bridges of Stockholm. It does offer some excitement although of a different kind, as it takes you through the locks between Saltsjön and Lake Mälaren. The tour takes you under 12 bridges in Stockholm and will show you famous sights, areas and buildings – all from the waterside. There is a bar onboard if you want to enjoy a classic Swedish fika during the tour.

Recommended age: Suitable for all ages
Pris: Children 0-5 years FREE and children 6-15 years 144 SEK
Available dates: Friday – Sunday until. 20/12– prebook for guaranteed seat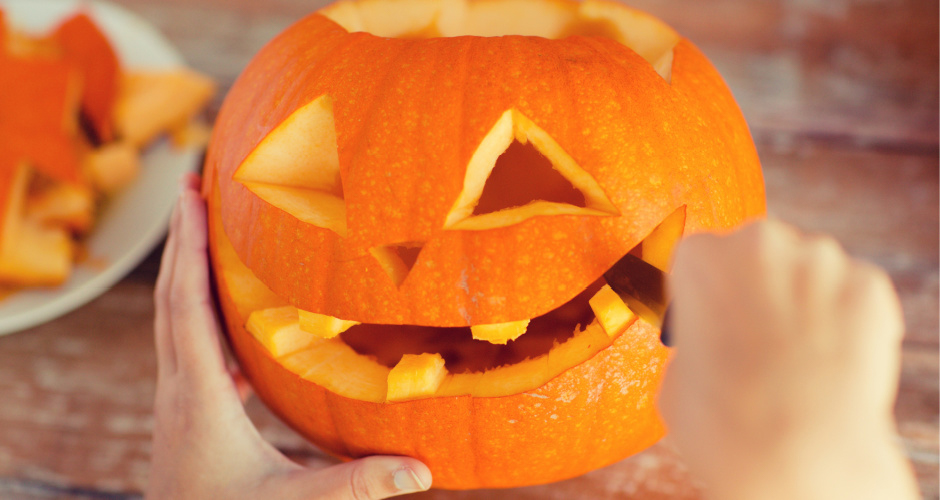 Carve your own pumpkin lantern for Halloween
Get in the mood for Halloween by carving your very own pumpkin lantern. It's a fun activity for the whole family to get involved in! Start by deciding what your pumpkin is going to look like – scary, happy, sad or cooky? If you can't settle for just one, make a whole family of pumpkins and everyone gets one of their own. Here are our best tips of method and tools to use.
Tip – Don't throw away the pumpkin seeds! Rinse them thoroughly, drizzle with olive oil and sprinkle with some sea salt and roast in the oven for 20-30 minutes on 175 °C. A super tasty and healthy snack!
Useful tools when carving a pumpkin
Paper cut-outs for your design
Pen
Sharp knives – preferable two different sizes
Spoon
Candles (preferably battery-operated flameless candles to reduce the fire risk)
Step by step instructions
Start by carving off the top of the pumpkin to create a lid.
Scoop out the pumpkin flesh, fibres and seeds.
Create your own (or use a ready-made) cut out for the pumpkin's eyes, nose and mouth. Carefully attach the cut-out to the pumpkin and draw on the contours with a pen. Remove the cut-outs.
Carefully use the knife to carve along the drawn-on contours and saw through the skin that you can press out the loose pieces. If you are removing large pieces try cutting of a smaller piece at the time.
Light a candle inside!