Stockholm's waters are currently being overexploited, which has led to certain species of fish depleting due to dredges and building of new quays and harbours. However, the Christmas trees have been shown to attract fish, including fish that help to reduce eutrophication.
- Last year, we sent down divers who filmed the spruce on the seabed, and there was rum everywhere which proved that this project is beneficial for the fish, says John Kärki, project leader at Sportfiskarna.
On board the Stromma boat Djurgården 7, which transports the spruce trees out in to Riddarfjärden, I meet John Kärki, also know as Christmas Tree-John, who is a fisherman at Sportfiskarna and project manager overlooking the Christmas tree project.
- The fish's natural habitat has been eradicated and there is currently not enough vegetation and structures in Stockholm's polluted water, which is something the fish need. But by adding the spruce to the seabed we can make a kind of artificial reef that forms structures for the fish.
This is the fourth year in a row that the Christmas tree project has been carried out in collaboration with Sportfiskarna. Christmas trees are tied together (kind of like a bouquet) with a weight tied to them. They are then lowered down to the seabed to form reefs. The fir trees are placed at a depth of about four meters in Riddarfjärden, near the shoreline at Rålandshovsparken.
- At that depth the conditions are particularly beneficial, especially for perch. The fish seek out the Christmas trees because they are reasonably protected from other predatory fish, John says.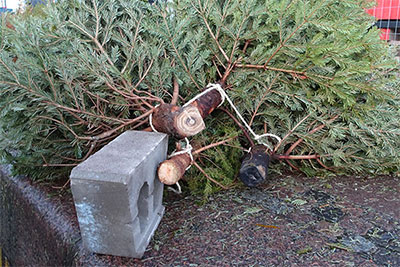 What other types of projects could save the city's fish?
- We have an ongoing plan to build reefs made from rock and stone. Another simple but cost-effective method is to hang vegetation from the otherwise bare quay consoles. We could even lower blasted thin-track wagons in Riddarfjärden that would form giant reefs, John says.
This year we have collected and sunk around 150 spruce trees in Riddarfjärden and 160 spruce trees in Ulvsundasjön, which surpasses the goal.
- This year we received so many spruce trees that we have enough over to lower in to Ulvsundasjön as well. It is important that the spruce trees don't get piled up in Riddarfjärden, but that they are spread methodically.
What can one do as a private person to promote fish life?
- Pick up trash! And if you have your own jetty, you can actually hang your Christmas tree in the water from the edge of the jetty and thus creating a small reef that benefit the fish.
It is the fourth consecutive year that the Christmas tree project has been carried out in collaboration between Sportfiskarna, Stockholm City, WWF WWF, Stromma and Stockholm's ports.