11
Sweden
Stockholm
Things to do on Valentine's Day


Atmospheric dinner at a luxury boat restaurant - S / S Stockholm
Skip the restaurants that are all fully booked on February 14th and go out and enjoy a romantic meal later instead. Sundays are perfect for a date night at a restaurant because it is much more quiet than usual. In the restaurant onboard the steamship S/ S Stockholm they served a lovely Sunday dinner where you can choose between everything from classic steak to delicious truffle pasta. The dining room is decorated in elegant art deco style and you enjoy views of the lit up Nybroviken.


Cosy dinner at home
Buy some quality ingredients and cook a tasty dinner for two at home. Light some candles, put on cosy music and make up a cocktail to sip on while you cook. One tip is to divide the cooking so that one of you plan and cook the main course and the other takes care of dessert and maybe even an appetizer. Get adventurous and skip the usual menu with Toast Skagen, a piece of meat and panna cotta - try something new and unpredictable and surprise your partner!


Go skiing in Hammarbybacken
Take the opportunity to enjoy the winter and each other and hit on the slopes in the middle of Stockholm and bring a lovely picnic. Hammarbybacken ski venue have five slopes, a children's area and a snow park. The lifts take you up to the top and from here you can enjoy a striking view of Stockholm. Hammarbybacken has a wind shelter with BBQ area and a basic restaurant serving hot food, coffee and sweet treats.


Luxury brunch cruise in Stockholm archipelago
Enjoy a romantic brunch in the beautiful Stockholm archipelago. Every Saturday and Sunday at noon, S/S Stockholm departs for a three hour brunch cruise in Stockholm archipelago. The buffet is filled with traditional dishes made with prime Swedish produce such as cold and warm meats, various salads and breads. Make sure to leave some room for cheese, sweets and desserts.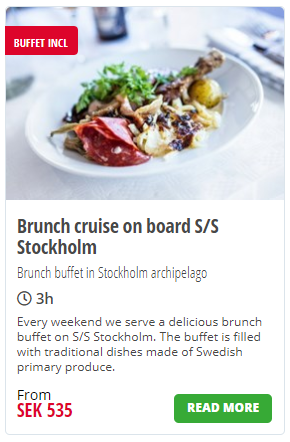 This website does not support Internet Explorer, to ensure that the site works properly we recommend that you use another browser e.g. Microsoft Edge or Google Chrome.