Our brands - Stromma Finland

We offer sightseeing and theme cruises in the beautiful Helsinki archipelago under the Helsinki Sightseeing product label. Our speciality is the Beautiful Canal Route cruise that goes through the narrow and shallow Degerö channel.
Stromma charter cruises are operated under the Helsinki Sightseeing product label. We can tailor a unique cruise experience complete with route, programme and menu suggestions that accommodate the client's wishes. By separate agreement we can also provide guide and transport services. Our fleet includes ships and vehicles suitable for various needs and groups of all sizes.

Helsinki Excursions offers Panorama Sightseeing and Helsinki Living & Design bus tours - a high-standard city sightseeing tours around Helsinki all year round. The tours are operated with a double decker bus with the good view. A recorded narrative on headphones in ten languages. Helsinki Excursions offers also the day tours to Porvoo and Nuuksio National Park, as well as a wide selection of private tours for groups on request.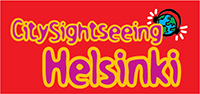 Hop On Hop Off bus tours operate every day in summer, with red City Sightseeing and green Hop On Hop Off double decker buses. The route goes by all of the city's key attractions and ticket holders may get off and back on the bus as many times as they like – a ticket is valid for 24/48 hours. There are several stops along the route.

All sightseeing tours and excursions are available online 24h.
Ticket sales kiosks in Esplanade Park (Fabianinkatu) and at Market Square (Kolera-allas) from May to September.



Helsinki This Week is the traveller's most important guide to the city that provides info on current events and useful tips about things worth seeing and experiencing. Available online: www.helsinkithisweek.com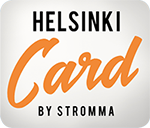 Helsinki Card collects all of the city's key attractions and activities into a convenient package. The card offers free-of-charge admission to numerous locations as well as special offers on, among other things, shopping and restaurant services. In addition, the card holder can travel free of charge on public transport for the card's entire period of validity. The card also includes a free-of-charge sightseeing tours by bus and boat. The Helsinki Card is valid for 24/48/72 h. Further information: www.helsinkicard.com